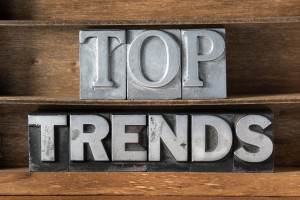 It's that time of year again. And we're not talking about the latest hot new sugar cookie recipe; we're talking about the myriad of companies, academics, and experts all putting out their yearly list of trends.
After tracking down our top tech guys and gals in the field and chatting about IT security, network infrastructure, and social engineering, we narrowed down 81,500,000 Google tech trend results to three commonly repeated IT security trends:
1. Data Privacy
2015 brought us data breaches at Anthem, CVS, the IRS and the Office of Personnel Management, to name a few. Breaches of this size and scope have continued to cause the public to lose confidence in the ability of companies or the government to protect their data. A 2015 Pew report found that 74% of Americans believe control over personal information is "very important," yet only 9% believe they have such control.
Not only do companies need to be mindful of safeguards to their internal systems, they need be sure of the security of those they work with outside of their company. According to Itzik Kotler, CTO and Co-Founder of the cyber security firm SafeBreach, data breaches are increasingly happening via third-party vendors, as was the case with the 2014 data breach at Target.
Just like in 2012, 2013, 2014, and 2015 – in 2016 companies must continue to safeguard their data and make a point of ensuring the public that they are serious about protecting our personal information.
2. Internet of Things (IoT)
The term "Internet of Things" has been floating around the IT world for a few years. IoT simply means that more and more of the products we buy are connected. From the refrigerator in our home to the car we drive, the products we use every day are now connected to the internet and sharing information about us to a number of different vendors.
Printers are a great example of this (and we happen to know a thing or two about them). Once upon a time, copiers were basically a tray of paper and a big green button and printers were little more than "File > Print" In the past few years, multi-function printers have become standard, but today's printers are as connected to the internet as your smartphone. With apps that allow you to print wirelessly or directly from Dropbox and scanners that will send files auto-magically to the right folder on your server, IoT is real and getting more common.
In 2016, look for improvements in functionality for everything from your printers to the office coffee maker (no seriously, check it out here). And to stay ahead of the game, it's going to be crucial to think beyond the cool factor for the built-in functionality that comes with IoT devices and adopt a leverage and risk-management mindset.
On the one hand, while connected devices may be cool, the future of IoT is in strategic adoption with a view to enhancing productivity. And on the other, consider this: can a coffee pot be hacked? In the age of IoT it can. Risk management and proactive security can help mitigate risks.
3. Mobile Security
As companies become better at securing their data and fending off security breaches, cyber criminals are targeting our mobile devices. That open WIFI network at your favorite coffee shop is great for budding entrepreneurs to build the next great idea while sipping on their favorite latte; however, it has become a breeding ground for increased attacks from sophisticated hackers.
In 2016, we will see more companies working to develop ways that companies and individuals can protect their data from being stolen via smartphones and tablets.
One way you can stay ahead of the curve is to audit your wireless routers and ensure there are no open networks. And keep your employees on their toes with a reminder to not use public WIFI networks when using company devices or even personal devices to access work information.
While these aren't the only trends to keep an eye on moving into 2016, it's a sample of the important stuff and hopefully a little easier to digest than 81,500,000 search results.