Rapid advancements in technology have transformed printers into highly functional IoT devices. The connection of multifunction printers (MFPs), laptops, tablets, and mobile phones to corporate networks have created a new attack path for hackers to leverage. With MFP functionality closely resembling a computer, multifunction printers increasingly need more sophisticated security features to ensure the protection of stored data.
With 560,000 new pieces of malware detected every day and 1.5 cyber attacks on MFPs per minute, businesses need a quick and easy-to-implement solution to improve their MFP security. Robust and intelligent MFPs include sophisticated features that add additional layers of security to prevent the spread of viruses and malware. The key, however, lies in knowing how to leverage them.
Businesses that take the time to bolster their multifunction printer security reduce their attack surface, ensure the protection of sensitive data, and maintain productivity in the face of looming cyber threats. Here are some basic and advanced MFP security tips your organization can quickly implement today without needing to spend another dime.
Why Businesses Need to Continually Secure Their MFP
Before diving into the best practices for improving MFP security, businesses need to first understand why locking down their MFP is essential. An organization's MFP contains sensitive and confidential information that hackers are looking to extract and exploit. Organizations may feel protected now, but it's tomorrow's attack they need to plan for. Businesses that fall victim to the "set-it and forget-it" security mindset are creating the breeding grounds for hackers to develop new threats that bypass outdated security standards and exploit overlooked MFP vulnerabilities.
Hackers have already identified MFPs as a business's weakest security link. The most recent cybersecurity threat making headlines, PrintNightmare, illustrates this unfortunate fact. The sophisticated virus exploits a bug affecting Windows Print Spooler software. The compromised printer acts as an entryway into the business network, allowing hackers to remotely install programs, view and delete data or even create new user accounts with full user rights.
With new sophisticated cyber attacks being developed every day, businesses need a security solution that keeps their MFP fleet secure and employees productive even in the face of new
viruses and malware.
Basic Steps to Improve Your MFP Security
With an acute awareness of the growing MFP threats and vulnerabilities, businesses can begin allocating the necessary resources and time to bolster their MFP security. The good news is there are multiple ways to do this quickly and cost-effectively.
1. Change Multifunction Printer Default Password
The first step organizations should take to bolster their MFP security is to change the printer's default passwords. Hackers can easily locate MFP default passwords on the internet or in equipment manuals. Once a hacker has successfully secured a password, they can enter an organization's network, gain administrative access, and turn on features that further expose MFP vulnerabilities.
2. Shut Off Unused Protocols and Ports
Multifunction printers have immense functionality that makes these powerful printers attractive to organizations across a variety of industries. However, the extensive functionality of MFPs can be a double-edged sword if businesses don't take the necessary steps to disable the features, protocols, and ports that are inapplicable to their business operations as these features pose unnecessary security risks. Common unused protocols and ports that pose an MFP security risk may include:
FTP settings

Bonjour printing

AppleTalk
Below is a snapshot of where users can shut off unused protocols and ports for a Konica Minolta multifunction color printer.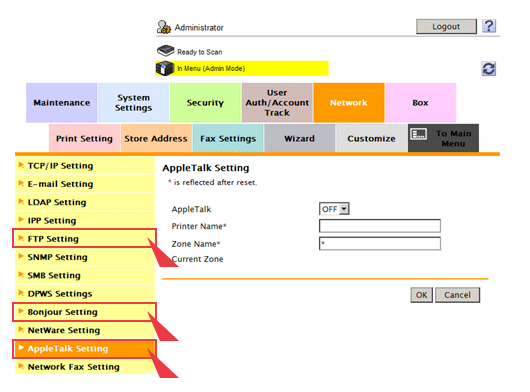 3. Turn on Secure Print
Secure print is a document security feature that requires an end-user to be present at the physical device in order to release the print job by entering a password or pin. Secure print provides additional document visibility, ensuring printed documents end up in the right hands.
While there are more advanced secure printing solutions, organizations can utilize basic secure print features on their MFP without purchasing additional software.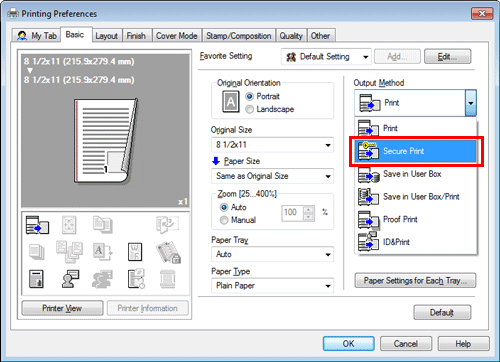 Advanced Multifunction Printer Security Best Practices
Once the basic MFP security improvements are completed, businesses should consult with their managed print service providers (MPS) to implement advanced security measures to add additional layers of MFP protection. The right MPS should have the technical experience to install and monitor these features to ensure proper functionality.
1. Keep current on firmware and patch upgrades - Experienced IT service providers use real-time monitoring to proactively apply consistent firmware updates and security patches.
2. Utilize access control measures - Businesses can use native access control features to lock down their device and only allow authorized employees who have approved credentials for printing.
3. Disable thumb drive port- Thumb drives that are lost or stolen can be used to access sensitive company data. Hackers can use thumb drive ports to download malware that infects the organization's network. Thumb drives pose more security risks than value, organizations are better off disabling thumb drives or banning them from on-premise environments.
4. Encrypt hard drives - Most MFPs have optional or built-in data security tools available to encrypt data stored on the hard drive(s). Encrypting all data connections to and from multifunction printers will help to protect sensitive data.
5. Enable IP filtering - Businesses can use IP filtering to allow only certain IP addresses to print to an MFP.
6. Enable TPM hard drive feature - When enabled, TPM (trusted platform module) prevents unauthorized users from tampering and accessing the MFP hard drive, ensuring sensitive information stays secure.
7. Implement a virus scanning solution - Businesses need a robust antivirus solution like Bitdefender to scan MFP input and output data to prevent the spread of viruses and malware.
8. Use secure communication - A secure HTTPS connection protects against malware code injections from fake websites.
9. Mandate consistent employee training programs - Requiring employees to undergo regular MFP and cybersecurity training will enforce security best practices and mitigate data leakage and breaches.
10. Install automatic temporary image removal - Temporary files help organizations recover lost data, but it also provides hackers the same opportunity. The auto-deletion setting allows end-users to set a time frame for the deletion of all stored data, minimizing the risk of data leakage.
Maintain Your Productivity with Improved MFP Security
These basic and advanced multifunction printer security tips are meant to provide organizations a cost-effective security strategy they can implement quickly to keep their sensitive data secure and remain productive in times of heightened cyber risks.
However, the best way organizations can stay prepared is to partner with experienced print specialists that are up to date on the most recent cybersecurity issues and have a variety of proven IT solutions to meet the unique security needs of your organization's printer fleet.