A multifunction printer (MFP) can be an organization's greatest tool to improve productivity. However, poor MFP security can quickly turn your productivity tool into a cybersecurity liability. The recent influx of data breaches highlights a harsh reality: your data is at risk and your MFP is the gateway.
Businesses need to understand that it's not about whether a company will be targeted by a cyber attack, it's about when. There's no need to bombard you with a list of alarming statistics to illustrate the importance of MFP security. One will do just fine.
Hackers have learned to leverage compromised MFPs as an entry point into business networks, marking a 45% increase over the past year with 1.5 attacks on MFPs per minute.
It's not all doom and gloom, however. Experienced IT service providers are ready to combat cyber attacks and malware with new advanced MFP security solutions. Robust and intelligent MFPs include sophisticated features that add additional layers of security to prevent the spread of viruses and malware.
Businesses that are aware of these threats and vulnerabilities associated with MFPs can partner with experienced print specialists to implement a holistic 360 degree MFP security strategy that reduces their attack surface, ensures data protection, and maintains productivity in the face of looming cyber threats.
What are the MFP Threats I Need to Know?
It doesn't matter what type of multifunction printer businesses have, black & white or color, all MFPs pose cybersecurity threats that businesses need to be aware of. Here are some of the main MFP vulnerabilities:
Viruses - Hackers can maliciously send documents containing viruses to the MFP.
Stored media - Data stored on hard drives can be accessed if not secured properly.
Captured files - Files that are routed to various destinations can potentially expose sensitive data.
Cloud-based access - A weak or unsecured cloud connection can expose data to unauthorized users.
Input tray - An unsecured input tray is a physical security risk, which can lead to unauthorized tampering or theft of sensitive documents and special media such as prescriptions.
Output tray - Similarly to the input tray, printed documents left unattended can be physically stolen by unauthorized individuals, exposing sensitive information.
Ports and protocols - Hackers can gain access to MFPs from an unsecured USB port or network ports.
Network - Since MFPs are connected to the internet, print jobs can be intercepted as they travel over the network.
BIOS and firmware - Compromised firmware can open up MFPs and business networks to an attack.
The best way to ensure these MFP security threats are consistently detected is to partner with experienced MFP specialists. Technical support including real-time monitoring of MFP fleets will prevent cybersecurity issues before they arise to keep businesses safe and employees productive.
Examples of Potential MFP Breaches
Let's take a look at these MFP vulnerabilities through the lens of actual breaches that have already occurred. A survey on print-related breaches found that 61% of respondents have reported at least one of the following printer-related breaches: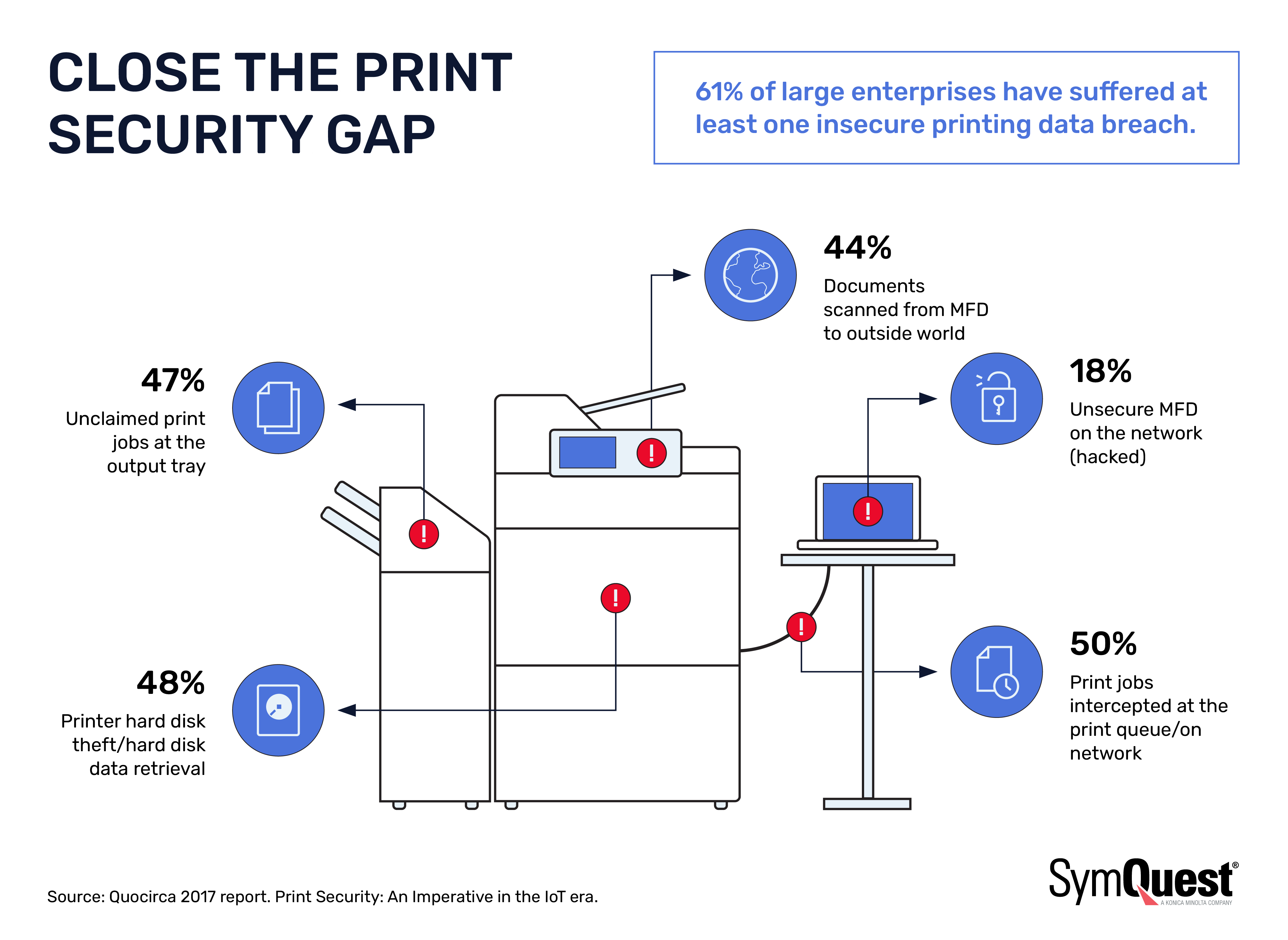 Keep Your Data Protected with Holistic Multifunction Printer Security
Businesses can mitigate cybersecurity risks without compromising productivity by taking proactive steps to analyze the potential vulnerabilities of their multifunction printer. Remember, a chain is only as strong as its weakest link, so don't let it be your MFP.
Don't wait for a cybersecurity breach to realize the risks that poor MFP security can cause. The right MFP will come equipped with enhanced security features like an embedded virus scan engine to maintain productivity and safeguard stored personal and private information. An intelligent multifunction printer paired with consistent technical support from experienced MFP technicians will minimize your attack surface and reduce the likelihood of a costly data breach from occurring.