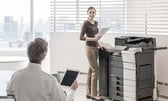 So much of what we do on a daily basis is heavily reliant on our ability to stay connected to the outside world. This is especially the case when it comes to running office networks and utilizing tools such as MFPs (multifunction printers) and other connected devices. However, while these tools can help to streamline your operations, increase productivity, and reduce overall business costs, they can also be a source of unexpected data breaches.
Much like any connected device, MFPs can pose a risk to your data security if you don't take the proper precautions. Just like networked computers, MFPs can store specific amounts of data on their internal hard drives that need to stay secure when connected to an internal network. Here are some MFP security considerations every organization should keep in mind:
MFP Hard Drive Storage
Most modern MFPs run similarly to computer systems, with touchscreens, storage and functional outputs. A hard drive in an MFP LIKELY stores data about the incoming and outgoing documents that it prints, faxes, copies, and scans. This onboard storage gives MFPs the ability to process large jobs and store documents for both convenience and security purposes.
Types of Printer and Network Security
Due to the sensitive information that passes through and is stored by your MFP, it's essential that you utilize internal and external MFP security precautions to protect your data.
User Authentication
For larger companies, it is wise to deploy User Authentication protocols that allow you to monitor all user activity through your MFP. Anonymous usage can lead to unauthorized external access and abuse of your hardware, and can also make tracking the source of a data breach very difficult.
Data Encryption and Overwrite
Since there are endless pools of data regularly flowing through largescale MFPs, encrypting all data connections to and from your multifunction printer can help to protect any sensitive data. Most MFPs have optional or built in data security tools available to encrypt and overwrite data stored on the hard drive(s). This will minimize any potential data leaks.
Steps to Keep your MFP Data Protected
1. Staff Education
Whether you're buying a new MFP or leasing an MFP, all employees should be trained on security best practices to follow when using the hardware. Consider keeping a documented MFP policy on hand for new employees or current employees who need a refresher.
2. Managed Company Access
It's important to restrict sensitive information wherever possible, both internally and externally. By creating system protocols and using managed print servers, you can help to control the types of access going to your MFP at all times. This will ensure employees are not able to access or reprint sensitive documents.
3. Proper Removal
When it comes time to trade in or remove your MFP, it's important to make sure your device is completely reformatted, and all information is completely erased. This should include both internal hardware storage and onboard memory that can store company contact information, staff emails, and other user credentials.
Modern MFPs are powerful computing devices that can potentially store large amounts of company data. As PCs and servers become more secure through tougher standards, attackers will turn to unprotected network devices such as multifunction printers. Take advantage of the security features available with today's printers and MFPs to create a safer workplace free from IT security threats.