Few organizations today could operate without a printer or a multifunction device, but we don't often think about how those devices contribute to the overall efficiency of the workplace. If your printer is still just a printer, your organization is missing a critical piece of the productivity puzzle. Legacy printers that only do one thing could be weighing down your day-to-day workflows. Here are the three printer features that every organization must have to create a secure, efficient workplace.
1. Networking and Mobile Printing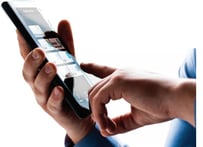 Individual desktop printers might make sense for some small organizations. In general, however, fleets of desktop printers are quickly becoming uncommon sites at most workplaces.
Instead, networked printers are much more prevalent. For years, employees have had the ability to print from their computers to a central machine. But in today's mobile-centric business environment where remote work is more common than ever, teams need even more flexibility with their printing capabilities.
Wireless printing is one must-have business technology feature that increases productivity by eliminating common printing roadblocks for your team. Wireless printers allow computers and smart devices connected to your network to use the printer from tablets and cell phones for quick and efficient printing no matter what device the employee is using. For today's agile workforce, networked printing devices and wireless printing capabilities are essential.
2. Security
The more devices become networked, the more security vulnerabilities emerge. Never underestimate the importance of locking down your printer to avoid serious security breaches.
Why is printer security such a big deal? Sophisticated printers and MFPs are as technologically sophisticated as personal computers; they can connect to wireless networks and store data on hard drives. This opens up a number of vulnerabilities. In 2013, there were over 86,000 publicly available HP printers indexed by Google. This means that thousands of print devices are unprotected. Anyone could potentially send documents to these printers, but it goes the other way as well—the documents the business is printing could be seen. Encryption for networked printers is a definite necessity.
Beyond securing your printers on the IT level, advanced features at the machine level also contribute to security. Pull printing is one of the most secure ways for organizations to handle document printing. Pull printing holds a user's job on a server until the user manually releases it at the printing device itself. It requires you to be present at the machine in order to release your print job by putting in a password or PIN.
As PCs and servers become more secure through tougher standards, attackers will turn to unprotected network devices such as multi-function printers. Take advantage of the security features available with today's printers and MFPs to create a safer workplace free from IT security threats.
3. Customization and User Interface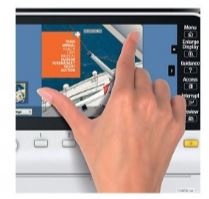 Every organization has its own unique way of working, and not all MFP functions are equally valuable depending on your workflow. To maximize productivity, a custom user interface for your printers and MFPs is key. Start by choosing a printer that has a touchscreen interface and allows complete customization of the control panel that aligns with your organization's needs.
As we continue to demand more and more functionality from our printers, a simple, easy-to-use interface is becoming a necessity for efficient operations. Customizing the interface allows you to streamline your workflow and make it easy for people to do what they need. By creating unique interfaces to suit individual business needs, you'll be able to optimize the MFP functionality and user experience:
Reduce the number of button clicks necessary to perform basic operations at the MFP

Remove options that are unnecessary or should not be modified by end-users

Highlight important features

Customize the MFP to fit your organizational branding standards
The way we work is changing, and technology is shifting to support the modern workplace. Printers and multifunction devices play a significant role in the day-to-day operations of almost every organization. Unleash the power of your printer to make your workplace more efficient and secure by investing in each of these must-have features.