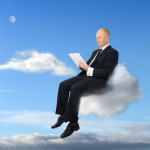 In the age of cloud, mobile, wearable and virtual technology, "The Cloud" has become almost as ubiquitous as air. For five years, we've been hearing about the cloud and why we should or shouldn't move there, if it's right for our companies, is it safe… and so on.
The good news is, as the cloud matures, we can boil the whole thing down to two reasons you should consider moving your network to the cloud. Well, more like two and a half.
1. Best Practices. Chances are you've heard all about how much money the cloud can save you or how much more it's going to cost. The truth is that there are cost savings and there is expense. And that investment to move to the cloud is going to be driven by how outdated your current system is and whether your company keeps up with best practices for its network.
If your network isn't governed by best practices, you can't remember the last time someone serviced the on-premise machines that run your organization, or network security is a conversation you have occasionally, it's probably long past time to update your network environment.
This assessment and upgrade is a perfect time to make the shift to a cloud-based network, which will increase your data security, give you more flexibility and scalability, dramatically reduce your risk of downtime, and reduce your overall investment by shifting to a service-based model where your cloud provider invests in keeping the machines up to date while you focus on what matters most, your customers.
2. Cost Savings. We know you've heard this one before and that you've heard it both ways. Here's the deal. Technology is changing faster than ever, which is great for newer and better stuff and tough for newer and more diabolical risks. In order to keep up with trends like BYOD, wearable tech, telecommuting and whatever else may be coming down the road without opening the company up to all kinds of vulnerability, you need the latest and greatest. Which, as we know comes at a premium.
However, as things shift to the cloud, businesses can benefit from the best technology to host their operations, without having to invest in new hardware every year. The service-based model lets experts focus on your technology while you focus on your business and keeps the cost of new hardware spread across multiple outfits.
As an added bonus, you can scale your network to your needs, paying only for what you need, when you need it, rather than trying to speculate and getting stuck with less capacity than you need or more than you could possibly use.
2½. Stop Reading About It. Seriously. We know this isn't the first list you've read about why you should or shouldn't move to the cloud. Now is as good a time as any to give us a call, ask for a network assessment and stop reading lists.