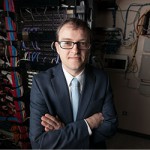 All businesses need to plan for the unexpected. A Business Continuity and Disaster Recovery Plan is a roadmap for how to handle various disaster scenarios, from the catastrophic to the seemingly small.
To answer the question of whether your business needs such a plan, let's take a look at what would happen if you didn't have one. Without a data recovery solution, you could permanently lose…
Sensitive employee and customer information such as:

- Social Security numbers

- Passwords

- IDs

- Tax and payroll data
Medical records
Access to email and all the information stored in your email folders
Legal documents including vendor contracts and criminal case information
Contact information for clients, employees, partners, and vendors
Applications and programs for day-to-day business
Basically, anything you store on your computer could potentially be lost.
If your business would be negatively affected by losing anything on this list,
then yes, you need a plan.
The Painful Truth About Data Loss
Remember: as bad as it is to lose access to vital data, the problem goes far beyond that. Without a recovery plan, you also might need to spend weeks or months reentering lost assets, leading to high labor and management costs and drawing resources away from your core business functions.
Finally, if you've lost certain kinds of data such as Social Security numbers, passwords, and bank account information, you will need to notify every single person who is potentially affected. This could do serious damage – perhaps even fatal – to your reputation and your brand.
This is not just hypothetical. According to a Careerbuilder survey, nearly 10% of businesses have experienced a business loss due to the lack of a disaster
recovery plan.
Picking the Right Data Recovery Plan for Your Business
The key elements to a comprehensive backup and disaster recovery solution are:
Craft a recovery plan that matches your particular business goals
Select the best data protection plan for your organization – hard copy, backup tapes, or online backup
Plan for a "smoking crater" scenario (a large-scale disaster such as being hit by an asteroid), but don't leave a gap in your plan for single failures, such as a flood in your building or a hard drive crash
Audit your backup and disaster recovery plan and adjust as your business objectives change
Consider Managed Backup Services , which ensure your data is always safely backed up
Experts in the data recovery business point out that every single business that uses a computer is in need of a business continuity and disaster recovery plan – no matter
how small.
It All Boils Down to This…
We should be thankful that advancements in technology have led to increased productivity, new business opportunities, and exciting partnerships. Technological innovations, particularly on the Web, have reduced barriers to entry for many small business people.
The trick is to make sure this technology works for you, and not the other way around. With a strong disaster recovery plan, you can achieve this goal – and it's not as hard as you think. Contact us today to learn how.