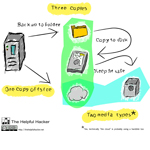 Any business would be in trouble if something happened to their computer hardware. You never know when a natural disaster or accident could take something you thought was safe, like your business's valuable data, and wipe it out completely. Do you have a plan in place to recover from a disaster that affects your IT?
Ready.gov recommends these 5 steps to begin creating your business's IT disaster recovery plan.
Take inventory of hardware, software, applications and data.
Create a strategy to ensure that all of your information is backed up. The Helpful Hacker's 3-2-1 Rule of Data Backup is a great guide to making sure you cover all of your bases:

Have three backups. This means keeping your original, plus at least two copies of that original. This builds in redundancy, so that if one of your backups fails, or if a file becomes corrupted, you have it somewhere else.
Have your backups on at least two different media. The idea here is that you don't want to put all of your eggs in one type of storage basket. So if you back up to a hard drive and also to optical media (like a DVD), you're protected in the event that one of these fails.
Have one offsite copy. If your house burns down, or someone breaks into it and steals all your gear, you'd be out of luck with only local backups. As a result, one of your backups should be offsite. A cloud backup strategy is a good idea when planning to fulfill this rule.

Identify critical software applications and data as well as the hardware needed to run them. Make sure that copies of your program software are available so that you can easily reinstall on replacement equipment.
Prioritize hardware and software restoration to match your business's needs. What are the most important things you'll need to get your business back up and running?
Document your plan and test it periodically to make sure that it works. Be certain that everyone in your company is aware of your disaster recovery plan.
Even after you've established a plan, nothing is foolproof when you're not an IT professional. One way to ensure that your data will always be protected is by shifting your network environment to a secure data center and sign up for a managed backup plan. That way you won't have to stress about restoring anything yourself, your restoration time will decrease, and you're sure to get everything back the way you need it.
Find out more about ways you can prepare for a disaster now. Learn more about our disaster recovery solutions.