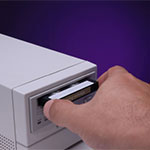 You may think that you're doing everything right by backing up your business's valuable information. But how quickly could you recover that data in the event of a disaster?
Brian Shuman, D.M.D. of Associates in Periodontics in Burlington, VT found out the hard way that his practice was not nearly as prepared as he thought it was. In 2011, Associates in Periodontics, which has been in business for over 40 years and has 4,500 patients, experienced a fire that destroyed their building. 80 percent of their records were digital, and he and his employees needed to start rebuilding the business—that meant accessing the patient information they needed.
"We needed to get the backup going and get our server back on," said Shuman in an interview with Vermont Information Technology Leaders. "We have a rule in our office that's pretty critical: no one ever leaves without the backup. At the time we were using a tape backup. I got in touch with my IT company and said, we have the tape and we need to be back up and running. They said, no problem, we'll get you up and running in no time on a virtual server. Do you have your software?"
But Shuman's dental, accounting, and imaging software had burned along with the building. He had to get in touch with Kodak and request that they send him a disk. To make matters worse, his tape was three years old, and his IT company didn't have the proper equipment needed to read it. Even when he received the disk he was waiting for, it was filled with errors.
"That was hugely disappointing," said Shuman. "I thought I was doing the right thing. The good news is that we recovered all of our data and we were back on a virtual server in just a few days."
Shuman is now determined that his practice will never be unprepared for disaster again. Associates in Periodontics' data is now hosted in the cloud, off-site, with image-based backup taking place every 15 minutes. He feels that every business should be aware of the best disaster recovery and business continuity practices.
"If we don't back these [records] up correctly, it's an unbelievable disservice to our patients, to our practices, and I can't think of anything worse from my practice perspective than having a tragedy and then on top of it being told, you've lost everything. You have no data. We need to get the word out about how critical it is. There has to be redundancy. It's well worth the dollars spent to have that piece of mind."
Disaster recovery doesn't have to be so traumatic. When you back up your data in a data center that utilizes cloud computing, your recovery time jumps from several days to several hours. Some companies, including SymQuest, are taking disaster recovery and business continuity to a new level by using image-based backup that saves your entire network, including copies of your software.
There's no doubt that cloud computing is here to stay—it's secure, convenient, and more cost-effective for businesses than having an in-house server that has to be serviced regularly and upgraded every few years. The cloud is the future for businesses that are trying to save on the cost of IT. And remember, if you rely on in-house equipment, you could get burned.
Learn more about Disaster Recovery with SymQuest >>