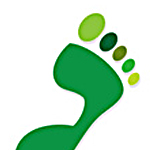 You might think about your carbon footprint when you drive your car to work, use a handful of napkins at lunch, or recycle your water bottle. But do you think about the carbon footprint your printing habits create? Printing in the office doesn't just cost your business—it costs the environment. Here are some surprising facts about the carbon footprint of printing.
The average office worker uses 10,000 sheets of copy paper each year.
One ream of paper (500 sheets) uses 6% of a tree.
In the United States, we use enough office paper each year to build a 10-foot-high wall that's 6,815 miles long. That's more than the distance from New York to Tokyo!
Production of one ton of copy paper uses 11,134 kilowatt-hours (the same amount of energy used by an average household in 10 months).
Production of one ton of copy paper produces 5,690 pounds of greenhouse gases (the equivalent of 6 months of car exhaust).
So with all the paper that can be wasted in an office environment, what are some things your business can do to reduce your carbon footprint?
Be sure all documents are edited as thoroughly as possible before printing so there's fewer risk of re-dos. If you make a mistake, recycle the paper or use it for something else.
Change your settings so that you're fitting more content on each page and printing on both sides of the paper when possible.
Take advantage of electronic document management. You'll not only cut down on paper use and reduce your printing costs, but your entire office will function
more efficiently.
Practice toner cartridge recycling.
No matter the size of your office, there are things everyone can do to waste less paper and reduce their carbon footprints.
Learn how SymQuest can help your office function more efficiently and improve your green efforts. Request a Print Assessment.