Despite the increasingly paperless world, most organizations still rely on their printers and MFPs on a daily basis. But employees' bad printing habits can take printers from useful to costly. They can even turn your MFP into a security liability.
Print management software helps organizations track, control, and secure the printers and printing habits of their offices. Implementing print management can help save money and resources by curbing bad habits and making individuals more aware of their printing behaviors.
Here are three of the most common bad printing habits employees have, and how organizations can use print management software to get printing under control.
Habit #1: Leaving documents on the printer
We've all done it—we press Print, get distracted, and forget to pick up our documents. This habit is all too common, but it can also be a security issue. When confidential information is left sitting on the printer, it's at risk for falling into the wrong hands.
Solution: Implement secure print release
To stop forgetful folks in your office from accidentally leaving sensitive documents on the printer, use print management software to set up secure print release. Secure print release ensures that documents don't start printing until the user is there at the printer to collect them. Some solutions allow the user to print to a queue and release the print job from any device in the building or campus.
The user verifies their identity when they reach the printer or MFP, then authorizes the job to print. This can be accomplished by pin code, AD network credentials or through HID cards. Not only does this help reduce paper and toner waste from forgotten print jobs, but it also helps to protect sensitive and confidential documents from becoming a security risk.
Habit #2: Using wasteful print settings
Careless printing is another bad habit that many employees have. Whether printing too many documents in color or printing lengthy documents single-sided, many people don't think twice about how wasteful their print settings can be.
Solution: Set up printing policies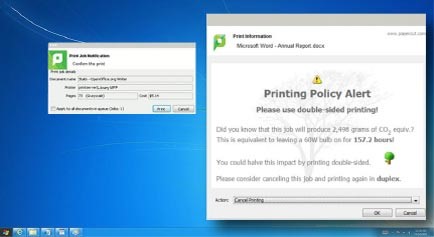 With print management software, you can set up and enforce policies that cut down on wasteful printing. Implement best-practice print policy rules such as:
Reminding users to print duplex with helpful pop-ups
Routing larger jobs to dedicated high-volume printers
Discouraging users from printing emails
Discouraging printing web pages in color
Habit #3: Printing every document, even if it's unnecessary
Some people print out everything, even without a real reason. Keeping hard copies of every document can quickly get out of hand. Other people are traditionalists who print out documents simply to edit them or distribute hard copies when it would be just as easy to send out the digital version.
Solution: Enforce print quotas
Print quotas encourage users to think twice about whether printing a certain document is truly necessary. Print quotas are used to limit users or departments to printing a certain number of pages within a given time period. Quotas can easily be allocated on a daily, weekly, or monthly basis, or even on custom schedules such as semesters or business quarters.
It's time for organizations to recognize the significant role that print environments play in both budget and IT security. With print management software, you can implement solutions for improving your print environment to increase security, save money, and reduce your organization's impact on the environment. Start by tracking and monitoring the printing behavior in your office so you can identify areas for improvement.