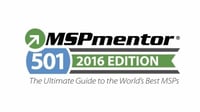 SymQuest Group, Inc., a wholly-owned subsidiary of Konica Minolta Business Solutions U.S.A., Inc., and regionally based IT and document sales and service provider, has been recognized as a nationally ranked Managed Services Provider (MSP) by MSPmentor©.
Konica Minolta Business Solutions, U.S.A., Inc. (Konica Minolta), is pleased to announce that it has been recognized as one of the top IT Services providers by MSPmentor 501, a distinguished report identifying the world's top 10 managed services providers (MSPs), for the fifth year in a row.
Konica Minolta offers technology and IT Services that enable its clients to function securely and efficiently through the effective use of technology while focusing on their bottom line. With over 850 dedicated engineers in more than 30 locations across the U.S. and Canada, it provides support across the entire IT spectrum, from support and strategy, cybersecurity, cloud services and industry-tailored solutions.
Konica Minolta was able to achieve this year's rankings through the combined revenue and resources of its three IT Services divisions - All Covered (US), SymQuest (US) and IT Weapons (CA). Growing its technology services practice continues to become an important part of Konica Minolta's global strategy.
"We are very excited to be recognized for the fifth time for our cutting edge technology services," said Rick Taylor, President and CEO of Konica Minolta Business Solutions. "It is our mission to help our clients navigate the technological landscape and pair them with the right technology for their business."
The MSPmentor 501 report is based on data from MSPmentor's global online survey conducted earlier this year. The report recognizes top managed services providers based on a range of metrics, including annual managed services revenue growth, revenue per employee, managed services offered and customer devices managed.
About SymQuest® Group, Inc.
Founded in 1996, SymQuest designs, installs, and hosts network infrastructures and printing environments of all sizes. SymQuest is a regionally based subsidiary of Konica Minolta Business Solutions U.S.A with locations in South Burlington and Rutland, VT, Plattsburgh and Watertown, NY, Keene and West Lebanon, NH and Westbrook and Lewiston, ME. SymQuest has developed a national reputation for service excellence and innovation and is ranked Northern New England's #1 managed IT services and copier provider by MSPmentor©. Learn more about our solutions at www.SymQuest.com.
About Konica Minolta
Konica Minolta Business Solutions U.S.A., Inc. is a leader in information management focused on enterprise content, technology optimization and cloud services. Our portfolio of offerings deliver solutions to improve our customers' speed to market, manage technology costs, and facilitate the sharing of information to increase productivity. The All Covered IT Services division offers a range of IT strategy, support, project and cloud computing solutions across all verticals. Konica Minolta has won numerous awards and recognition, including placement in the Leaders Quadrant on the Gartner 2014 Magic Quadrant for Managed Print Services (MPS) and Managed Content Services (MCS). Konica Minolta has been recognized as the #1 Brand for Customer Loyalty in the MFP Office Copier Market by Brand Keys for nine consecutive years. Konica Minolta, Inc. has also been named to the Dow Jones Sustainability World Index for four years in a row. For more information, please visit: wwwcountonkonicaminolta.com and follow Konica Minolta on Facebook, YouTube, and Twitter @konicaminoltaus.
###