Each year, SymQuest hosts their clients and vendor partners for a round of golf to benefit a deserving local organization.
Forty-five different organizations joined us for a

beautiful day on the green at
The Golf Club at Basin Harbor
, with the goal of raising funds for The Vermont Community Foundation's
Flood Response and Recovery Fund
, which was established to support the response and recovery from the catastrophic rainfall across the state in 2023.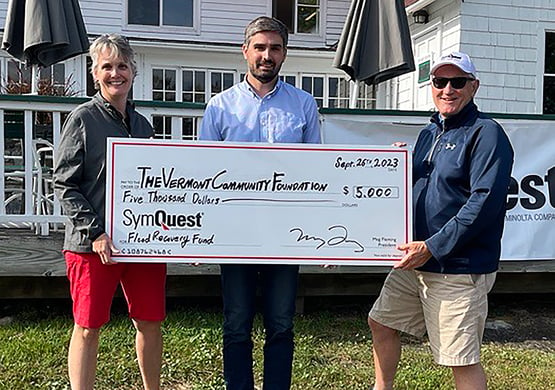 SymQuest President, Meg Fleming, presenting a $5,000 check to Austin Haynes of the Vermont Community Foundation; along with legacy employee, Jeff Culkin.
After a fun day of play, we were pleased to announce that we would be donating a total of $5,000 to support the flood relief efforts! For more information on the Fund and how to support, visit: vtfloodresponse.org .
View more event photos on our Facebook page >
We give a heartfelt thanks to this year's tournament sponsors, for their generosity in helping to make this event possible.
Gold Sponsor

Pro Shop Sponsor

Cart Sponsor

Program Sponsor

Registration Sponsor
Breakfast Sponsor


Lunch Sponsor