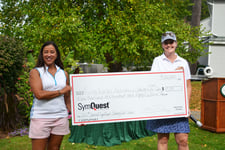 SymQuest Group, Inc., a wholly-owned subsidiary of Konica Minolta Business Solutions, U.S.A., Inc., recently hosted their 22nd Annual Golf Tournament to benefit the Visiting Nurses Association of Chittenden and Grand Isle Counties, a nonprofit organization dedicated to helping people live their fullest lives by providing innovative, high-value, compassionate care wherever they call home.
"For 22 years SymQuest has been giving back to our neighbors through our annual golf classic." commented SymQuest President, Meg Fleming. "This year we were honored to support the VNA, and help expand their mission to every Vermonter in need of their life-sustaining and community oriented services."
SymQuest made a contribution for each tournament Birdie, Eagle, and Hole in One. The donation from SymQuest amounted to $9,150. Sponsors for this year's tournament included Konica Minolta, ZixCorp, KnowledgeWave, and Delta Marketing Group.
The VNA of Chittenden and Grand Isle Counties was founded in 1906. Today's VNA employs 600 people, serving all ages from birth through to death all over Chittenden and Grand Isle Counties. Programs and services have been added in response to community needs. To learn more visit www.vnacares.org.
About SymQuest® Group, Inc.
Founded in 1996, SymQuest designs, installs, and hosts network infrastructures and printing environments of all sizes. SymQuest is a regionally based subsidiary of Konica Minolta Business Solutions U.S.A with locations in South Burlington and Rutland, VT, Plattsburgh and Watertown, NY, Keene and West Lebanon, NH and Westbrook and Lewiston, ME. SymQuest has developed a national reputation for service excellence and innovation and is ranked Northern New England's #1 managed IT services and copier provider by MSPmentor©. Learn more about our solutions at www.SymQuest.com.
About Konica Minolta
Konica Minolta Business Solutions U.S.A., Inc. is reshaping and revolutionizing the Workplace of the Future™ (www.reshapework.com). With our comprehensive portfolio, we deliver solutions to leverage mobility, cloud services, and optimize business processes with workflow automation. Our All Covered IT Services division offers a range of IT strategy, support, and network security solutions across all verticals. Konica Minolta has been recognized as the #1 Brand for Customer Loyalty in the MFP Office Copier Market by Brand Keys for ten consecutive years and is proud to be ranked on the Forbes 2017 America's Best Employers list. Konica Minolta, Inc. has been named to the Dow Jones Sustainability World Index for five years in a row. We partner with our customers to give shape to ideas and work to bring value to our society. For more information, please visit: www.CountOnKonicaMinolta.com and follow Konica Minolta on Facebook, YouTube, and Twitter@KonicaMinoltaUS.