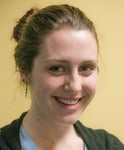 SymQuest Group, Inc., a wholly-owned subsidiary of Konica Minolta Business Solutions U.S.A., Inc., recently announced the addition of Shelby Pousland and Kelly Barton to its Finance and Operations teams, respectively. Pousland joins SymQuest as an Accounting Support Specialist, and Barton as an Administration Support Specialist. "Providing an excellent service experience for our clients is our top priority," says Larry Sudbay, President and CEO of SymQuest. "The addition of Shelby and Kelly will flank our Finance and Operations departments, allowing SymQuest to respond to customer inquiries in a timely and consistent manner."
Pousland will support SymQuest's Finance Team assisting with billing and customer inquiries out of SymQuest's South Burlington, VT office. Prior to joining SymQuest, Pousland graduated from Vermont Technical College with a degree in Business Administration.

Barton will field incoming copier, printer, and IT customer support inquiries out of SymQuest's South Burlington, VT office, and brings more than 20 years of customer service experience to the department. Prior to her current role, Barton worked for Fairpoint Communications as a Business Client Support Representative.
SymQuest joined the Konica Minolta family of companies in 2015 and is currently hiring. To learn more about career opportunities with SymQuest visit www.SymQuest.com/Careers.
About SymQuest® Group, Inc.
Founded in 1996, SymQuest designs, installs, and hosts network infrastructures and printing environments of all sizes. SymQuest is a regionally based subsidiary of Konica Minolta Business Solutions U.S.A with locations in South Burlington and Rutland, VT, Plattsburgh and Watertown, NY, Keene and West Lebanon, NH and Westbrook and Lewiston, ME. SymQuest has developed a national reputation for service excellence and innovation and is ranked Northern New England's #1 managed IT services and copier provider by MSPmentor©. Learn more about our solutions at www.SymQuest.com.
About Konica Minolta
Konica Minolta Business Solutions U.S.A., Inc. is a leader in information management focused on enterprise content, technology optimization and cloud services. Our portfolio of offerings deliver solutions to improve our customers' speed to market, manage technology costs, and facilitate the sharing of information to increase productivity. The All Covered IT Services division offers a range of IT strategy, support, project and cloud computing solutions across all verticals. Konica Minolta has won numerous awards and recognition, including placement in the Leaders Quadrant on the Gartner 2014 Magic Quadrant for Managed Print Services (MPS) and Managed Content Services (MCS). Konica Minolta has been recognized as the #1 Brand for Customer Loyalty in the MFP Office Copier Market by Brand Keys for nine consecutive years. Konica Minolta, Inc. has also been named to the Dow Jones Sustainability World Index for four years in a row. For more information, please visit: www.countonkonicaminolta.com and follow Konica Minolta on Facebook, YouTube, and Twitter @konicaminoltaus.
###