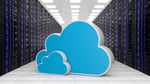 SymQuest Group, Inc., a wholly-owned subsidiary of Konica Minolta Business Solutions U.S.A., Inc., and regionally based IT and document sales and service provider, is proud to announce the addition of two nationwide data center environments to its cloud services offering.
As part of the company's commitment to innovate and provide world-class IT services and support, SymQuest is expanding its cloud services offerings with two highly secure Konica Minolta environments located in data centers based in Chandler, AZ, and Ashburn, VA. The Tier 3 data centers, powered by CyrusOne® and Zayo®, provide redundant internet, power, and multi-level security including biometric authentication, and 24/7 on-site monitoring. SymQuest customers included in the newly added environments will be supported locally.
"SymQuest has been providing managed cloud services to our valued customers since 2013," says Larry Sudbay, President and CEO of SymQuest. "By flanking Konica Minolta's network design and added expertise, we've emerged as Northern New England's leader in secure and redundant cloud infrastructure."
The highly sustainable, energy efficient, data center design provides an outlet for businesses to meet rigorous data storage compliance needs. The one million square-foot Chandler, AZ facility is located in a data center safe zone, providing shelter from natural disasters including seismic activity, tornados, and hurricanes. The 72,000 square-foot Ashburn, VA facility allows for carrier-neutral connectivity with access to over 66 of the world's largest ISPs and content providers.
SymQuest's hosted cloud solutions account for $2.5 million in annual revenue. The addition of the Chandler and Ashburn data center environments equips SymQuest to leverage Konica Minolta's state-of-the-art infrastructure and support, and magnifies computing capacity and scalability for SymQuest's clients in NY, VT, NH, and Maine. To learn more about managed cloud services visit https://www.symquest.com/cloud-service-solutions/.
About SymQuest® Group, Inc.
Founded in 1996, SymQuest designs, installs, and hosts network infrastructures and printing environments of all sizes. SymQuest is a regionally based subsidiary of Konica Minolta Business Solutions U.S.A with locations in South Burlington and Rutland, VT, Plattsburgh and Watertown, NY, Keene and West Lebanon, NH and Westbrook and Lewiston, ME. SymQuest has developed a national reputation for service excellence and innovation and is ranked Northern New England's #1 managed IT services and copier provider by MSPmentor©. Learn more about our solutions at www.SymQuest.com.
About Konica Minolta
Konica Minolta Business Solutions U.S.A., Inc. is a leader in information management focused on enterprise content, technology optimization and cloud services. Our portfolio of offerings deliver solutions to improve our customers' speed to market, manage technology costs, and facilitate the sharing of information to increase productivity. The All Covered IT Services division offers a range of IT strategy, support, project and cloud computing solutions across all verticals. Konica Minolta has won numerous awards and recognition, including placement in the Leaders Quadrant on the Gartner 2014 Magic Quadrant for Managed Print Services (MPS) and Managed Content Services (MCS). Konica Minolta has been recognized as the #1 Brand for Customer Loyalty in the MFP Office Copier Market by Brand Keys for nine consecutive years. Konica Minolta, Inc. has also been named to the Dow Jones Sustainability World Index for four years in a row. For more information, please visit: www.countonkonicaminolta.com and follow Konica Minolta on Facebook, YouTube, and Twitter @konicaminoltaus.
###