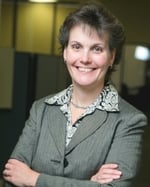 SymQuest Group, Inc., a wholly-owned subsidiary of Konica Minolta Business Solutions U.S.A., Inc., and regionally based IT and document sales and service provider, is pleased to announce the appointment of Meg Fleming as Chief Operating Officer (COO) of SymQuest.
"It is an absolute pleasure to announce Meg's new role within the organization," says Larry Sudbay, President and CEO of SymQuest. "Meg has been an incredible asset to SymQuest throughout her 24 years with the company. Her ability to drive business in various market verticals, develop employees to become leaders, and manage critical corporate initiatives is vital to her position as COO. We are honored to have Meg lead in this role, and guide our organization as we navigate the changing landscape of technology and document solutions."
Prior to her appointment as COO, Fleming served in various positions within the company including: Client Support Manager, Service Manager, Director of Service and Regional Director of Sales. Fleming has a demonstrated ability to recruit and develop top talent, and has developed many of SymQuest's existing employee's into their current positions. Fleming's leadership skills enable her to manage and coordinate teams to accomplish SymQuest's strategic mission.
When Fleming is not leading at SymQuest, she is involved in service and believes in giving back to the community. Fleming has previously held positions as Board Member for the St. Michael's College Alumni Association, Board Member for the Girl Scouts of the Green and White Mountains, and acting Co-Chair of the Cambridge Conservation Commission – among other service activities.
Fleming will be responsible for the Finance, Operations, Administration, and Document Service departments throughout SymQuest's nine office locations; and will be based in SymQuest's dual-headquarters, located in South Burlington, Vt. and Westbrook, Maine. Fleming received a Bachelor's of Arts in Psychology from St. Michael's College in Colchester, Vt., and successfully completed Leadership Champlain, Northern Vermont's premier leadership training program supported by the Lake Champlain Regional Chamber of Commerce.
About SymQuest® Group, Inc.
Founded in 1996, SymQuest designs, installs, and hosts network infrastructures and printing environments of all sizes. SymQuest is a regionally based subsidiary of Konica Minolta Business Solutions U.S.A with locations in South Burlington and Rutland, VT, Plattsburgh and Watertown, NY, Keene and West Lebanon, NH and Westbrook and Lewiston, ME. SymQuest has developed a national reputation for service excellence and innovation and is ranked Northern New England's #1 managed IT services and copier provider by MSPmentor©. Learn more about our solutions at www.SymQuest.com.
About Konica Minolta
Konica Minolta Business Solutions U.S.A., Inc. is a leader in information management focused on enterprise content, technology optimization and cloud services. Our portfolio of offerings deliver solutions to improve our customers' speed to market, manage technology costs, and facilitate the sharing of information to increase productivity. The All Covered IT Services division offers a range of IT strategy, support, project and cloud computing solutions across all verticals. Konica Minolta has won numerous awards and recognition, including placement in the Leaders Quadrant on the Gartner 2014 Magic Quadrant for Managed Print Services (MPS) and Managed Content Services (MCS). Konica Minolta has been recognized as the #1 Brand for Customer Loyalty in the MFP Office Copier Market by Brand Keys for nine consecutive years. Konica Minolta, Inc. has also been named to the Dow Jones Sustainability World Index for four years in a row. For more information, please visit: www.countonkonicaminolta.com and follow Konica Minolta on Facebook, YouTube, and Twitter @konicaminoltaus.
###