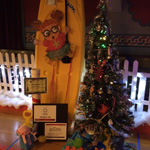 SymQuest is pleased once again to be sponsoring a holiday tree at this year's FEZtival of Trees, a weeklong event to benefit Kora Temple in Lewiston, ME. Along with dozens of beautifully decorated trees available to be raffled off, the event will include live entertainment, a silent auction, 50/50 raffle, photos with Santa, a craft fair and a food court.
Kora Temple is the home to the Kora Shriners, the masonic brotherhood responsible for Shriners Hospitals for Children. The "fez" in FEZtival of trees refers to the distinctive headwear that the Shriners wear. This year's FEZtival of Trees will help subsidize the operating costs for the Temple so that they can continue with their wonderful charity work.
What: Kora Shrine FEZtival of Trees
When: Thanksgiving week, November 23rd – 30th
Admission: Adults $2, Children Under 12 Free

The theme for our tree last year was Technology... this year we went with a surf theme, complete with a real paddleboard!