We've all been there - you're trying to print an important document and there's no toner left. Or the error message that's been on the department's scanner isn't being addressed by IT because, let's face it, they have plenty to deal with already.
Printing, scanning and copying is an undeniable part of everyday office activities, and when they aren't managed correctly, they can cause a headache for individuals and bottlenecking for the entire office.
Managed print service could be the solution needed to give your organization an efficient print environment.
What is Managed Print Service?
Managed print service (MPS) is contractual ongoing support of monitoring, improving and overseeing the hardware and software associated with an organization's print environment. Because of the all-encompassing nature of MPS, it can help a business in a multitude of ways.
When an organization introduces MPS, a full assessment is conducted to learn workflows, how current hardware and software is performing, and the printing habits of employees among other details that indicate the requirements and needs of the organization.
With all this information, MPS can create a unique system that works for the organization.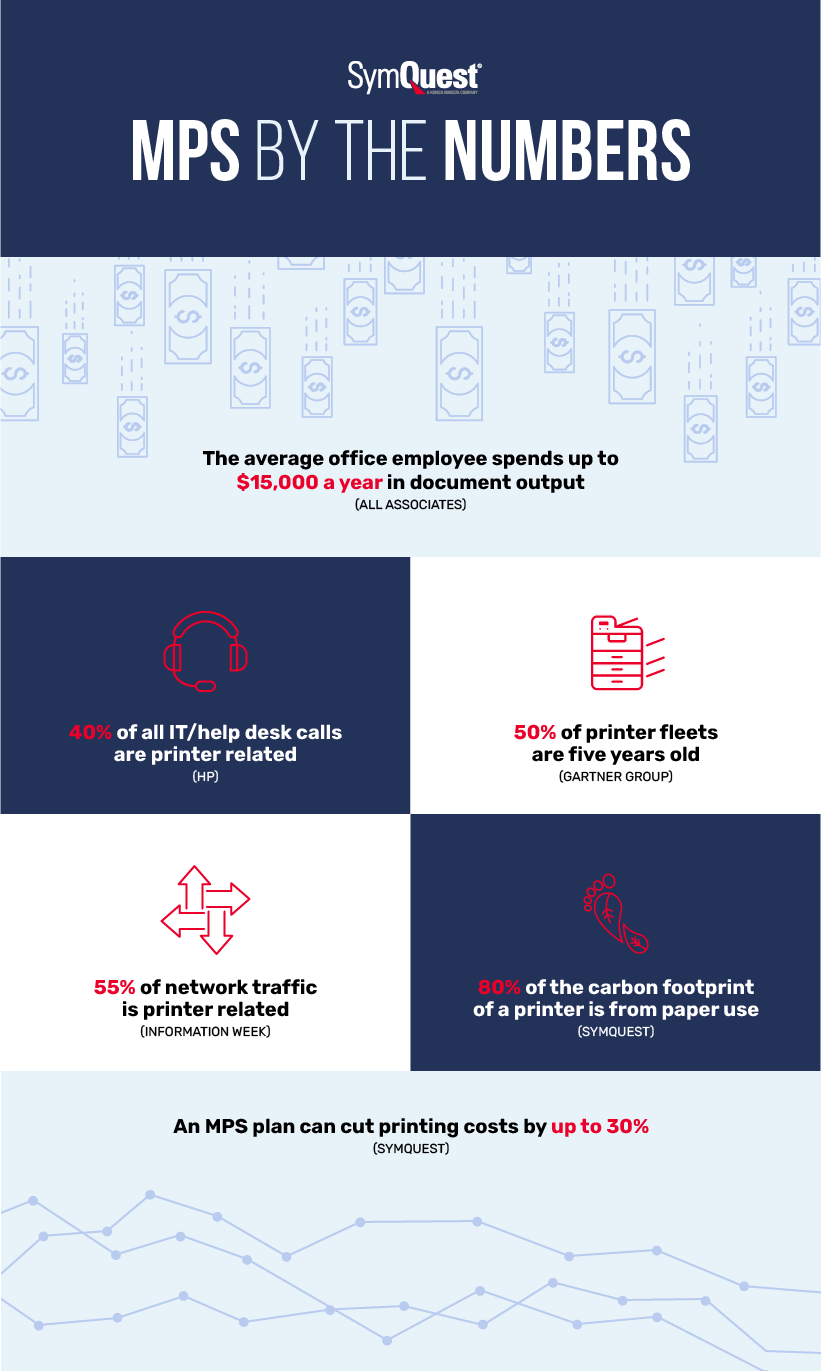 What are the Benefits of Managed Print Service?
MPS can be helpful for any size business because the benefits are universal.
The below list lays out the major pros of MPS, but it's important to remember that MPS is a holistic and thorough approach to an organization's print environment, so the numerous solutions can benefit all departments and workflows.
Reduced Costs
The first step is an assessment of the existing print environment, down to each machine and its output.
Having more equipment than necessary eats up money each month with electricity, unneeded supplies and maintenance. Moreover, if the equipment isn't working for employees because they don't have access to the right machines, or older machines are unreliable or inefficient, the entire office is losing productivity.
Constant monitoring of equipment and user behavior through MPS can stop these unnecessary expenses.
Additionally, many MPS providers offer one fixed price for the service, so organizations aren't juggling multiple contracts or vendors, piecing together what they need and spending more than they should.
Data Driven Recommendations
During the initial assessment, an MPS technician can determine if the current print fleet is efficient for the workplace. They'll "right size" the print fleet as well as move equipment to more accessible locations in the office based on use, or replace equipment if needed.
The MPS account executive will also determine the cost-per-print (CPP) and how much each device costs, which not only gives a baseline cost output, but shows if the devices are worth their keep in the long run.
An ongoing relationship with a MPS provider means these data-driven recommendations will continue throughout the partnership so the organization is always optimizing their print fleet.
Increased Security
As multifunction printers (MFPs) and scanners become more efficient and connected, the potential for security breaches increase, too. Not to mention, sensitive documents left unattended on printers or sent to the wrong device happens all too frequently. With MPS, safeguards can be put in place, like requiring access to unlock a document before it prints.
Reduced Internal Responsibilities
Many of the responsibilities of managing an organization's print environment falls to the already busy IT manager in the office, leaving employees waiting for fixes or updates to be made, or used-up supplies to be ordered. Automated supply ordering capabilities and easy on-call help availability removes these issues from day-today operations. If automation tools are offered, these issues may even be fixed remotely, meaning equipment can be up and running with little or no downtime.
Environmental Advantages
Sustainability teams within organizations are fans of MPS because of the environmental impact it can have, like removing unnecessary devices to reduce the amount of energy needed to run the fleet, and similarly, replacing inefficient machines. MPS can also introduce workflows that negate the need for printing at all, and instead encourages the digital transfer of files, electronic content management, and document sharing, saving paper in the process.
Does Your Organization Need MPS?
With the ease and cost saving benefits, companies of all sizes opt-in to MPS. Having a clear plan to ensure your organization isn't overspending, or under utilizing equipment or employees can be crucial for running a successful business.
If your organization is considering introducing a managed print service, start by requesting a print assessment to start seeing the possible cost savings.