A Note From SymQuest:
Our customers are so important to us and we appreciate nothing more than hearing their success stories. Delta Marketing Group began working with SymQuest in the summer of 2020 after trying two other local IT companies who couldn't solve the challenges they were facing with their network environment, cybersecurity, and print environment, while offering a small business budget option. David Houston, CEO at Delta Marketing Group, shared his experience.
- Alyssa Place, Marketing Specialist at SymQuest
---
Working With SymQuest to Solve Our IT Challenges
The day finally came when our IT guy retired. He did a good job managing our on-premise IT, our server, security, and data backup for 15 years. However, our Managed IT services changed when we migrated to G Suite, and we no longer needed a local server. All of our software is now in the cloud, and we have new challenges like backing up our G Suite files, ensuring remote employee cyber security, and the need for a robust security plan.
It was time to find a new IT company; not a process I was looking forward to. In full disclosure, SymQuest has been a client of Delta Marketing Group for over ten years, so we are very familiar with their services and reputation, but thought we couldn't afford their services.
We interviewed and hired a different local IT company and quickly recognized we had made a mistake. We fumbled through their unorganized onboarding and received invoices we were not prepared for because they hadn't disclosed their pricing for onboarding. This company-first mindset was the antithesis of what we needed and thus the search continued.
We moved on to find another option, and interviewed a second local company based on a recommendation from our previous IT guy. The discovery process was secretive, invasive, and lengthy, so we quickly determined this wouldn't be a good fit either.
We knew there had to be a better, cost-effective solution for a small business like ours. Knowing SymQuest's reputation in the business community - coupled with our unusual understanding of their services from a marketing partner perspective - we were confident they would be a good fit for us and hoped we could come to an agreement that would fit our budget. With that, I contacted a long time friend that worked at SymQuest and began the discovery process based on our challenges and goals.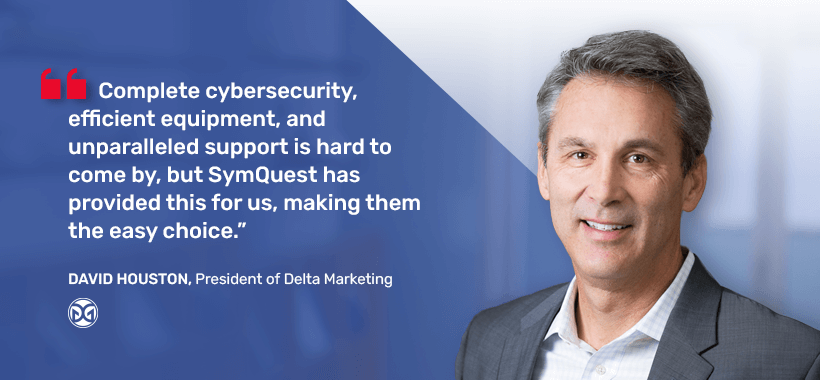 Challenges
Budget: Like any business, price is always a concern, especially when important factors such as services and billable time are sometimes not clear from the start. We learned that SymQuest has a program for small companies like ours. The program made it so SymQuest's services actually cost less than the two companies we had interviewed before them, doing away with our concern that we would exceed our budget.
G Suite Platform: G Suite is our primary platform for email, file storage, and software applications. We have many large files and need a backup solution that is set up correctly and easy to manage. We put this to the test in the first week when we needed to recover files. SymQuest had chosen a platform that was easy to use and provided detailed instructions on how to use it, so we never needed to call their support team to find what we were looking for in the backup files.
Cybersecurity: We know we're not alone in needing a secure system. Security is critical to every business, especially with a distributed workforce. We have a hybrid model of employees on-site and remote. Knowing that our network is secure and monitored is essential to us.
Print Environment: Upgrading our print environment was on the list since our Xerox Phaser was at the end of its life. The multifunction printer (MFP) that we used for printing, copying, and scanning was not adequate, so we were looking to upgrade it to a newer, more effective model.
The Sales Process
We worked with the network team and the print team during the sales process. Bill Burbank demonstrated why he is so respected in the industry with a structured discovery meeting where he asked all of the right questions. His goal was to help us, and we never felt pressured that he was trying to sell us services that didn't alleviate our challenges.
Nicole Juiffre recognized our print environment challenges and was able to identify the MFP that best fit our creative agency's needs. Our main goal was to ensure the accuracy of the printed documents would match the Pantone Matching System (PMS). She invited us to SymQuest's office to meet with a print specialist that recommended an MFP with corresponding PMS software. We now have one central printer that is capable of supporting our entire staff's print requirements.
When our previous print provider learned that we had been talking with SymQuest, he offered us a discount but no help in solving our challenges. SymQuest's sales process was based on solving our challenges and being helpful, all within our budget.
On-Boarding
Frankly, the onboarding process was surprising because no other professional service we have used provided a structured team process and milestones to complete the onboarding in the way that SymQuest did. SymQuest recognized our security threats and took action immediately to correct this. We worked with a small team of specialists and our reps during the entire process. This was a great way to start our relationship and reaffirm that we made the right choice.
Ongoing Support
SymQuest makes it easy for any of our employees to get the support needed when they need it, helping them stay productive and secure. When SymQuest doesn't hear back from the person they have helped, they follow up to make sure they have solved the person's issue. Our IT support has never been this simple.
Our Partner in IT
We are still personal friends with our IT guy, but we no longer have to worry about him going on vacation.
It is easy to disqualify a new IT company because of assumed price or the imagined sketchy sales process, and avoid the first step in meeting with them. Complete cybersecurity, efficient equipment, and unparalleled support is hard to come by, but SymQuest has provided this for us, making them the easy choice. After just a couple weeks of working with SymQuest, my partner asked why we hadn't hired them sooner. I know first-hand the challenge of operations for small businesses and the confidence it brings when the companies that support that business help them succeed.
If you are considering changing your IT services company and would like to learn more about our experience, please reach out to me on LinkedIn.