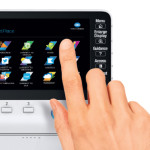 "File > print." That's been the command for decades. The first laser printer was developed in 1938 by American physicist and inventor Chester Carlson – but it's no longer 1938 and the evolution of printing technology has hatched a new love of print. Today's printers and copiers can handle everything from high-end publishing to pristine color matching for graphic arts. While some users only need a monthly report printout, most are seeking a printer that goes beyond the green button. Here are three features that set today's printers apart:
1. Production Print
Publishers have been mass producing their literary works for as long as there have been books. However, production-level printers now offer a workflow for publishers that goes from editor to distribution, all under one roof. Local and campus print shops are also beginning to take advantage of expanded capabilities available in modern production printers, including outputs of 105 pages per minute (ppm) and 14,000 sheet paper capacities. Paired with quality finishers, production level printing offers myriad options for any business that mass-produces a print. From book publishing to business reports to term papers, print is far from dead. If anything, it's speeding up.
2. Color Matching
Any marketer knows that color is king when you're printing to persuade or sell. While some desktop printers may reproduce on-screen colors close enough to work internally, newer multi-function and production printers can be paired with Fiery by efi® for Pantone color matching. These printers utilize advanced drivers to calibrate the color you're seeking for a perfect design match. Additionally, with a Fiery you can print directly from Adobe products knowing that the color in your design will print correctly.
3. Apps
Some of the best new features of multi-function printers (MFP) are applications that simplify how you do business. Some of these apps include Dropbox, Kno2 secure faxing for healthcare institutions, and even Twitter. All of these apps, and more, are available in the Bizhub Marketplace and can be added to most Konica Minolta MFPs. By loading relevant apps to your printer you can turn you MFP into a workflow machine – freeing up time for you to focus on the task at hand.
These are just a few of the popular features available in today's printers. For more information on the printer that's best suited for your office request a print assessment today. Happy printing.