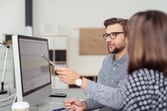 The technology refresh cycle can seem like a vicious circle. With the complexities of today's IT infrastructures, there is constantly one component or another coming to the end of its life.
This uncertainty often leads to rising IT costs, increased security risks, and a misalignment of technology and business goals. The key to stabilizing technology costs and creating better business alignment is to actively plan for technology lifecycle management.
Benefits of Technology Lifecycle Management
Better business and IT alignment

Enhanced agility

Reduced IT costs

Reduced regulatory and security risks
Why create a business technology plan?
Budgeting
As your tech infrastructure ages and your business grows, your IT needs will change. Understanding your direction will allow you to plan and budget for eventual necessary upgrades.

Streamlining Operations
When was the last time you took stock of your company's hardware and software usage to determine whether a) you're using these tools at full capacity or b) they need to be upgraded?

Protecting Business Assets
An outdated IT infrastructure with no plan for the future is a risk to your business data and could be opening security vulnerabilities for your company.
How can you effectively plan and predict IT needs? Here are three strategies for managing your business's technology lifecycles to create a secure, cost-effective, and optimized infrastructure.
1. Align business goals with the right technology tools
Technology impacts every area of your business. But too often, decisions about technology are made without considering how those choices will support (or not support) overall business objectives.
When creating a lifecycle management plan, start by defining your business goals and challenges. Taking this high-level approach will allow you to step back and understand how IT fits into the overall success of the business, instead of simply dealing with issues as they arise.
Since technology is so integrated into business, the first step in discovering your IT direction is to define your business goals.
How is your business strategy connected to your sources of revenue?

What stands in the way of earning more revenue?

How do you want to work?

Do you envision your staff working in the office, in the field, or from home? On what devices?

What kind of Recovery Point Objectives and Recovery Time Objectives do you need?

What kind of risks are you facing (e.g. competitors, data storage, regulatory requirements)
2. Converge asset depreciation
In many businesses, the technology stack and network infrastructure have been assembled in a piecemeal way over time. The various components have their own individual lifecycles, which causes the refresh cycle to be a constant issue that becomes challenging to manage.
This inconsistent asset depreciation—in addition to being frustrating—is also costly and can potentially leave your business vulnerable. IT infrastructure can get deprioritized if it seems as though updates are constantly needed, which leaves the risk that critical equipment will fail.
Instead of patching holes as they arise, focus on converging asset depreciation. Implement systems that bundle multiple functions into one solution, so a single refresh by a single vendor takes care of many functions at once.
A perfect example of this is hyperconverged infrastructure (HCI). HCI virtualizes the three major components of IT infrastructure: compute, storage, and network. In other words, HCI wraps servers and storage devices that comprise the data center into comprehensive and easy-to-manage tool. HCI helps you plan and predict technology lifecycles by allowing the three major data center functions to depreciate at the same rate, allowing you visibility into a predictable upgrade cycle.
3. Prioritize flexibility and scalability
It's a simple fact: as your business grows, you need to add increased IT performance and capabilities. With traditional infrastructures, scaling is a challenge. Whether it's purchasing more equipment or more storage space, the system only gets more complex—and costlier.
Seek out solutions that grow with your business and allow you to add increased functionality when you need it.
To use our example from #2, hyperconverged solutions are a much more modular, scalable approach than traditional IT infrastructure. Instead of scaling out—adding nodes on an as-needed basis—HCI allows for scaling up and scaling wide. Scaling up is the ability to upgrade nodes by adding CPU, RAM, networking, storage or all of the above. Scaling wide is the ability to scale a solution across multiple sites, including remote offices.
Creating a strategic plan for your business's technology lifecycles helps you predict costs and budget for future upgrades. But it also creates the peace of mind that your system will work reliably for your business no matter your growth stage.
Build your business technology roadmap today. Contact SymQuest to get started.