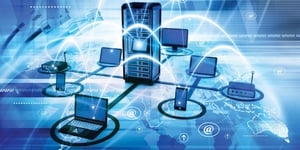 In 2015, 80% of vulnerabilities were known. 97% of these were preventable and easily fixable.
Join us for a webinar on Tuesday, July 11th to learn how SymQuest's Managed Vulnerability Scan (MVS) service can provide your organization a complete end–to-end consolidated security management solution that assesses vulnerabilities at multiple layers of the IT infrastructure covering operating systems, various servers, switches, hubs, wireless access points, applications, and more.
In this webinar you will learn how MVS:
Provides a current view of network security posture, both internal and external.
Enables email notifications of scan completion.

Runs on-demand scans at any time.

Offers a cloud-based service with no hardware or software investments required.

Automates steps in vulnerability management lifecycle asset discovery.

Enables risk prioritization and remediation management.

Meets continuous vulnerability scan requirements for regulatory compliance.