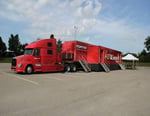 SymQuest is thrilled to announce that we will be showcasing the Fortinet 18-Wheeler Fast and Secure Tour on Thursday, June 22nd in our South Burlington, VT parking lot. Join us for Cyber Security demonstrations and to learn about Fortinet's Advanced Threat Protection Solutions. Fortinet's FortiExpress is trucking out of Silicon Valley, headed for cities all over North America. The custom 18-wheeler offers a state-of-the-art Advanced Threat Detection showcase and demo center. Fortinet industry experts are sharing the latest research on emerging cyber security threats, as well as how to protect your networks while maximizing the impact of your IT infrastructure. Forget the hype, get the facts!
AGENDA
10:30 a.m. //
Welcome & Registration
11:00 a.m. - Noon //
Session 1; Fortinet's Security Fabric and Ransomware
11:00 a.m. - 2:00 p.m. //
Food Trucks Open for Lunch!
1:00 p.m. - 2:00 p.m. //
Session 2; Fortinet's Security Fabric and Ransomware
2:00 p.m. - 2:30 p.m. //
Q&A and Closing Comments