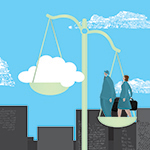 SymQuest in partnership with Downs Rachlin Martin will be hosting an upcoming workshop, 360° of IT Compliance on Thursday, August 13, 2015. This luncheon workshop will focus on IT compliance and risk management for your business. In this workshop you'll learn about:
Building a secure network environment
Best practices to manage IT risks
Choosing a quality IT vendor
Preparing for and protecting against a breach
Responding to a breach
Cyber insurance risk and transfer
Lisa Ventriss, President of the Vermont Business Roundtable will be our moderator for this event. Each attendee will also receive a 360° of Compliance Guidebook to get your business aligned with current compliance standards.