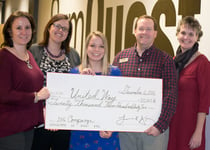 SymQuest Group, Inc., a wholly-owned subsidiary of Konica Minolta Business Solutions U.S.A., Inc., and regionally based IT and document sales and service provider, has raised over $20,000 for local chapters of the United Way through SymQuest's annual fundraising campaign.
"SymQuest is very committed to addressing the needs of our local community," says SymQuest President and CEO, Larry Sudbay. "Our annual United Way campaign enables us to support vital organizations that provide important health, education, and wellness programs to local residents. We're grateful to our employees for taking part in this important campaign each year."
In keeping with the United Way's mission to "…mobilize the caring power of communities around the world to advance the common good," SymQuest's annual campaign consists of companywide events that encourage employees to learn about local non-profit organizations, and build lasting impact in the community. The company's 2016 contribution to the United Way consisted of $20,243.00 and additional employee service hours from locations across New York, Vermont, New Hampshire and Maine.
SymQuest is committed to being socially responsible and involved in the communities in which it does business. To learn more about SymQuest's volunteerism and philanthropy visit www.SymQuest.com/Community.
About SymQuest® Group, Inc.
Founded in 1996, SymQuest designs, installs, and hosts network infrastructures and printing environments of all sizes. SymQuest is a regionally based subsidiary of Konica Minolta Business Solutions U.S.A with locations in South Burlington and Rutland, VT, Plattsburgh and Watertown, NY, Keene and West Lebanon, NH and Westbrook and Lewiston, ME. SymQuest has developed a national reputation for service excellence and innovation and is ranked Northern New England's #1 managed IT services and copier provider by MSPmentor©. Learn more about our solutions at www.SymQuest.com.
About Konica Minolta
Konica Minolta Business Solutions U.S.A., Inc. is reshaping and revolutionizing the Workplace of the Future™ (www.reshapework.com). With our comprehensive portfolio, we deliver solutions to leverage mobility, cloud services, and optimize business processes with workflow automation. Our All Covered IT Services division offers a range of IT strategy, support, and network security solutions across all verticals. Konica Minolta has been recognized as the #1 Brand for Customer Loyalty in the MFP Office Copier Market by Brand Keys for nine consecutive years and is proud to be ranked on the Forbes 2016 America's Best Employers list. Konica Minolta, Inc. has been named to the Dow Jones Sustainability World Index for five years in a row. We partner with our customers to give shape to ideas and work to bring value to our society. For more information, please visit: www.CountOnKonicaMinolta.com and follow Konica Minolta on Facebook, YouTube, and Twitter @KonicaMinoltaUS.