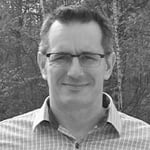 SymQuest's Product Engineer, Rick Zampini, is speaking at the Lewiston Auburn Metropolitan Chamber of Commerce Tech Series on August 10, 2016. The presentation is entitled: How to Boost Productivity, and IT Security, with the Right Multifunction Document Tools. Join us for this in-depth look into how you can get the most from your MFP, and how to protect your machine from a cyber-attack.

The L/A Metro Chamber of Commerce is an independent, member-supported organization, which exists to promote a positive business environment throughout Maine's Androscoggin County.
Rick Zampini is a Product Engineer for SymQuest's Document Solutions team and a 27 year veteran of the document output industry. Zampini works with clients to provide efficient solutions to document output related problems.
Zampini is certified in a wide range of document output brands which include: Konica Minolta, Kip Wide Format, Canon, Kyocera, HP, and Oce. Zampini is also trained in various document solutions including: PaperCut, Prescribe, DMConnect, and Square 9.
Prior to his role as Product Engineer, Zampini held positions in field service and network connectivity. Zampini is currently the acting chair of SymQuest's Solutions Development Team and leads the organization in identifying new products and solutions that will drive productivity and profitability for SymQuest's valued clients.