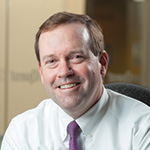 Larry Sudbay, President and CEO of SymQuest Group, Inc., will be a panelist at the Mainebiz U Session 1: Process Track.
As a co-founder of SymQuest in 1996, Larry has been responsible for SymQuest's strategic direction, driving revenue growth through innovation, and establishing company culture. SymQuest is a wholly owned subsidiary of Konica Minolta Business Solutions U.S.A., Inc.
Click here to learn more about Mainebiz Momentum and additional Session 1: Process Track panelists.