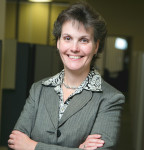 SymQuest recently presented its 7th Annual President's Award for excellence in community involvement. This year's recipient is Meg Fleming, Director of Document Sales for the Maine sales region of the SymQuest Group, Inc.
The President's Award annually recognizes a SymQuest employee who demonstrates a commitment to service both within the organization and outwardly through community involvement.
"Meg's donation of her talents and time to making a difference in the lives of others is simply outstanding," said SymQuest president and CEO, Larry Sudbay. "Meg not only volunteers, she embodies our philosophy of giving back and provides a model to which the rest of us aspire."
Each individual who receives the award has championed a variety of initiatives and assumed leadership positions in local non-profit organizations.
"Helping others is in my DNA and I'm fortunate to work for a company that embraces community service," commented Fleming. "Growing up I saw my parents volunteering and giving back in our community. They encouraged me to find causes that were important to me – volunteering has just become a natural part of who I am."
Fleming received the award for her continued involvement in building and giving back to the communities where she works, and lives. Most recently Fleming was a Team Captain for the American Cancer Society of Androscoggin County Relay for Life in Lewiston, ME, Co-Facilitator at the St. Michael's College Alumni Volunteer Day at My Place Teen Center in Westbrook, ME, and volunteer at the Beach2Beacon Road Race in Cape Elizabeth, ME. Fleming is also currently on the Board of Directors for the St. Michael's Alumni Board. Prior to living in Maine, Fleming was on the Board of Directors for the Girl Scouts of the Green and White Mountains. Fleming has also been a Co-Chair of the Cambridge Conservation Commission, and a Team Captain for the Relay for Life Nordic Style for five years.
To learn more about SymQuest's community involvement visit http://www.symquest.com/community/.