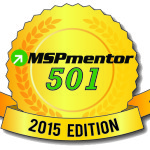 SymQuest Group, Inc. has been ranked Northern New England's #1 Managed Services Provider, and 26th worldwide, by Penton Technology's eighth annual MSPmentor 501 Global Edition, a distinguished list and report identifying the world's top 501 managed service providers (MSPs).
"For more than 19 years our primary aim as a managed services provider has been to act as a trusted partner to the businesses we serve in Northern New England," said Larry Sudbay, President and CEO of the SymQuest Group, Inc. "We are committed to offering excellent service, quality solutions, and giving back to the communities we serve. We will continue to keep this commitment for years to come."
Each year, MSPmentor gathers information for its annual rankings through the participation of managed service providers and IT service providers in an annual survey. The survey was conducted from December 2014 through January 2015. Rankings are based on Penton Technology's unique criteria for MSPs such as annual recurring revenues, total revenues and more.
"Thank you to all the companies who participated in this year's MSPmentor 501 survey, and congratulations to the companies that ranked on our 501 list, our regional lists and our Small Business list," said Jessica Davis, Editor in Chief of MSPmentor and Executive Editor at Penton Technology. "Your participation enables us to continue to provide you with high quality information about the most successful business models, pricing, vertical markets and other approaches to running your businesses in 2015 and beyond."
This year the top MSPmentor 501 companies recorded higher recurring revenues than ever before. Combined, the total annual recurring revenues for all of MSPmentor 501 2015 companies reached a record high of $3.95 billion in 2014, up 26.5% year over year. To learn more about SymQuest's managed services visit http://www.symquest.com/hosted-network-management/.