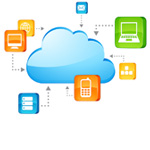 We're happy to announce that SymQuest has opened two separate data centers, enabling us to further meet our client's needs. These new facilities, located in Vermont and Maine, will take our hosted services to the next level. Here's a look at what you can expect from the addition of these two data centers.
SymQuest is Doubling Up on Security
A growing number of businesses are making the decision to work with third party agencies for cloud computing, hosted services, & disaster recovery. But how can these companies be sure that their data is truly secure? Many technological service providers make use of a single data center, and while these facilities can be secured, there is always the chance that the unthinkable could happen. Although you may not think that a fire or natural disaster is very likely, even the slightest risk should be cause for concern, as such an event could wipe out the entire data center, taking all of your virtual information with it.
In order to combat the issues presented by maintaining one site, SymQuest has chosen to proactively open and operate two data centers. These two facilities are located some 200 miles apart, and are entirely capable of operating independently from one another and back each other up. Even in the off chance that a disaster impacts one of the state-of-the art data centers, customer computing environments will be able to be promptly transferred over to the other data center. Because the two facilities are linked, this transfer will occur without any configuration or IP address changes. In this way, the security of client data is effectively doubled.
But operating two data centers doesn't mean that SymQuest has cut any corners on securing each individual location. Both centers protect their state-of-the-art computing, storage, and network equipment by taking numerous security measures. For starters, the sites are regularly tested for generator backup power, redundant UPS capacity, redundant power distribution, and redundant HVAC. In this way, clients can rest assured that the data stored in each center will always be fully powered and temperature regulated through sophisticated climate control systems. The SymQuest facilities also comply with fire and building codes, making use of either a gas-based FM200 suppression system, or a pre-action sprinkler system. Finally, both data centers are further protected by the implementation of multiple layers of card scans, Identification badge checks, and an advanced closed-circuit security camera system.
Protect Your Virtual Property
Is your network currently managed in-house, or remotely? Although your IT team may be able to ensure that your office is up and running during business hours, your server, programs, and data are probably not being monitored around the clock. And if your system isn't being backed up and stored off-site each day, you could lose everything in a disaster. Fortunately, cloud computing offers businesses the opportunity to store their virtual property in a remote location, and the hosted services offered by SymQuest ensures full protection and disaster recovery services so that clients like you don't have to worry about it at all.
In addition to security, SymQuest's hosted services make it easier and more cost-effective for businesses to manage their networks. Instead of being required to upgrade your server every few years, or as your needs change, let SymQuest shoulder the responsibility for you. You'll enjoy software standardization, a single point of contact for IT support, around-the-clock monitoring, total scalability, unlimited storage expansion, and, of course, some extra capitol.
With two new data centers, SymQuest is improving client experiences with cloud computing, hosted services, & disaster recovery. See for yourself how a hosted
plan can help.