SymQuest Group, Inc., a wholly-owned subsidiary of Konica Minolta Business Solutions U.S.A., Inc., and regionally based IT services and office technology provider, is pleased to announce the appointment of Mark Jennings and Ken Godzik as Area Vice President of IT Sales and Area Vice President of Document Solutions, respectively.
"I am honored to announce our new Area Vice Presidents," says SymQuest President, Meg Fleming. "Ken and Mark have energized the office technology market throughout Northern New England. Their keen understanding of innovation and leadership have created a highly educated team of sales professionals, able to assist buyers in solving common IT and document workflow problems."

Jennings has been working in the computer networking industry since 1988. Jennings began his career in IT with SymQuest's predecessor McAuliffe Office Systems. In 1996 Jennings joined the newly formed SymQuest Group, Inc. to help develop and manage the IT support services SymQuest offers its customers. Jennings worked with businesses to take advantage of the new tech generation, teaching the benefits of technology and how to mitigate security risks.
In his current role as Area Vice President of IT Sales, Jennings works with SymQuest's sales and service teams to educate customers on current IT best practices around data protection, disaster recovery, security, and overall technology planning. Throughout the years, Jennings has presented on such topics to professional organizations in the finance and banking, insurance, manufacturing, and medical industries among others.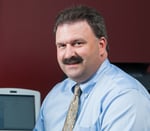 Godzik earned his Bachelor of Science degree in Management from Castleton University. Godzik began his career in Business technology with RG Landry Office Products in 1991, and worked for twelve years for IKON Office Solutions in sales and sales management prior to coming to SymQuest.
Godzik is responsible for driving equipment and solutions revenue through his team of sales professionals located throughout the Northeast from Bangor, Maine to Watertown, NY. Godzik is well versed and passionate in building teams that are focused on improving quality, gaining efficiency, and reducing costs for SymQuest's clients.
Godzik has close ties to the Rutland, Vt. business community through his involvement with the Rutland Region Chamber of Commerce and the Rutland City Rotary Club. Godzik has also been involved with the Copier Dealer Association.
To learn more about job opportunities at SymQuest visit www.SymQuest.com/Careers.
About SymQuest® Group, Inc.
Founded in 1996, SymQuest designs, installs, and hosts network infrastructures and printing environments of all sizes. SymQuest is a regionally based subsidiary of Konica Minolta Business Solutions U.S.A with locations in South Burlington and Rutland, VT, Plattsburgh and Watertown, NY, Keene and West Lebanon, NH and Westbrook and Lewiston, ME. SymQuest has developed a national reputation for service excellence and innovation and is ranked Northern New England's #1 managed IT services and copier provider by MSPmentor©. Learn more about our solutions at www.SymQuest.com.
About Konica Minolta
Konica Minolta Business Solutions U.S.A., Inc. is reshaping and revolutionizing the Workplace of the Future™ (www.reshapework.com). With our comprehensive portfolio, we deliver solutions to leverage mobility, cloud services, and optimize business processes with workflow automation. Our All Covered IT Services division offers a range of IT strategy, support, and network security solutions across all verticals. Konica Minolta has been recognized as the #1 Brand for Customer Loyalty in the MFP Office Copier Market by Brand Keys for ten consecutive years and is proud to be ranked on the Forbes 2016 America's Best Employers list. Konica Minolta, Inc. has been named to the Dow Jones Sustainability World Index for five years in a row. We partner with our customers to give shape to ideas and work to bring value to our society. For more information, please visit: www.CountOnKonicaMinolta.com and follow Konica Minolta on Facebook, YouTube, and Twitter@KonicaMinoltaUS.