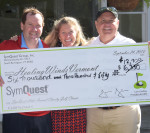 SymQuest Group, Inc., a wholly-owned subsidiary of Konica Minolta Business Solutions, U.S.A., Inc., recently donated $12,700 to HealingWindsVermont, a state nonprofit that provides cancer patients and their caregivers opportunities to relieve stress and anxiety through quality time together on the water. The donation was from the proceeds of SymQuest's 20th annual charitable golf tournament and included a matching donation from Konica Minolta.
"Giving back in the communities in which we do business is part of our corporate DNA," commented SymQuest president and CEO, Larry Sudbay. "Partnering with our valued clients and vendors to provide for HealingWinds' support of cancer patients and their caregivers is an honor for us and I can't think of a better way to mark 20 years of this work."
As part of the tournament format, SymQuest makes a donation for each birdie, eagle, and hole-in-one, which this year amounted to $6,350. Konica Minolta, who acquired SymQuest earlier this year, matched SymQuest's overall contribution, bringing the total donation to Healing WindsVermont to $12,700.
"Like any nonprofit, HealingWindsVermont is focused on our mission of providing meaningful experiences for cancer patients and their caregivers," said HealingWindsVermont executive director, Suzanne Johnson. "A donation of this magnitude gives us an opportunity to expand the experiences we provide and serve more people (here in our community and beyond) who need it. We're excited for the impact this will make this year."
Established in April, 2014 by Suzanne Johnson, a cancer survivor and lifelong sailor, HealingWindsVermont has given more than 65 sailing outings to cancer patients currently in treatment, and their caregivers, serving 300 individuals to date. To learn more about HealingWindsVermont visit www.HealingWindsVt.org
Sponsors for this year's tournament included US Bank, ZixCorp, KnowledgeWave, and Delta Marketing.
About SymQuest® Group, Inc.
Founded in 1996, SymQuest designs, installs, and hosts network infrastructures and printing environments of all sizes. SymQuest is a regionally based subsidiary of Konica Minolta Business Solutions U.S.A with locations in South Burlington and Rutland, VT, Plattsburgh, NY, Keene and West Lebanon, NH and Westbrook and Lewiston, ME. SymQuest has developed a national reputation for service excellence and innovation and is ranked Northern New England's #1 managed IT services and copier provider by MSPmentor©. Learn more about our solutions at www.SymQuest.com.
About Konica Minolta
Konica Minolta Business Solutions U.S.A., Inc. is a leader in information management focused on enterprise content, technology optimization and cloud services. Our portfolio of offerings deliver solutions to improve our customers' speed to market, manage technology costs, and facilitate the sharing of information to increase productivity. The All Covered IT Services division offers a range of IT strategy, support, project and cloud computing solutions across all verticals. Konica Minolta has won numerous awards and recognition, including placement in the Leaders Quadrant on the Gartner 2014 Magic Quadrant for Managed Print Services (MPS) and Managed Content Services (MCS). Konica Minolta has been recognized as the #1 Brand for Customer Loyalty in the MFP Office Copier Market by Brand Keys for eight consecutive years. Konica Minolta, Inc. has also been named to the Dow Jones Sustainability World Index for four years in a row. For more information, please visit: www.kmbs.konicaminolta.us and follow Konica Minolta on Facebook, YouTube, and Twitter @konicaminoltaus.