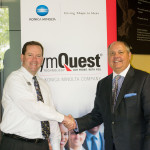 Konica Minolta Business Solutions, U.S.A., Inc. announced late Tuesday the acquisition of SymQuest Group, Inc. As a wholly owned subsidiary of the worldwide technology brand, SymQuest is poised to accelerate growth across its northern New England footprint.
"We're looking for really innovative companies with great leadership teams that we can invest in to accelerate growth in the local markets," commented Rick Taylor, President and COO, Konica Minolta Business Solutions U.S.A., Inc. in an interview Wednesday. "We expect employment in all of the states to grow as we go forward."
SymQuest will retain all of its existing 186 employees in seven offices across northern New England and New York.
"The first scenario for us was to identify an investor that believed in our values and mission," said Larry Sudbay, President and CEO of SymQuest. "Konica Minolta philosophically act and deliver services the same way we do. This is a match made in heaven."
SymQuest will also have the ability to offer a more extensive line of solutions than previously available including: 3D printing, enterprise content management (ECM), mobile applications, and high level production print solutions.
SymQuest Group, Inc. is now SymQuest – A Konica Minolta Company and a wholly owned subsidiary of Konica Minolta Business Solutions, U.S.A., Inc.
About Konica Minolta
Konica Minolta Business Solutions U.S.A., Inc. is one of the world's leaders in information management focused on enterprise content, technology optimization and cloud services. Our portfolio of offerings deliver solutions to improve our customers' speed to market, manage technology costs, and facilitate the sharing of information to increase productivity. The All Covered IT Services division offers a range of IT strategy, support, project and cloud computing solutions across all verticals. Konica Minolta has won numerous awards and recognition, including placement in the Leaders Quadrant on the Gartner 2014 Magic Quadrant for Managed Print Services (MPS) and Managed Content Services (MCS). Konica Minolta has been recognized as the #1 Brand for Customer Loyalty in the MFP Office Copier Market by Brand Keys for eight consecutive years. Konica Minolta, Inc. has also been named to the Dow Jones Sustainability World Index for three years in a row. For more information, please visit: www.kmbs.konicaminolta.us and follow Konica Minolta on Facebook, YouTube, and Twitter @konicaminoltaus.