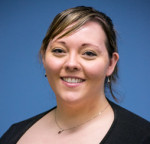 SymQuest Group, Inc. announced the addition of Leah Bagley to the company's South Burlington, VT headquarters. Leah joins SymQuest's administration team as an Administration Support Specialist.
"Our commitment to our clients' needs is central to the mission of our business," commented SymQuest President and CEO, Larry Sudbay. "That commitment is made possible through expertly trained administration teams. We look forward to welcoming Leah into such a team."
Bagley is a native of Massachusetts and currently lives in Williston, VT with her husband and young son.