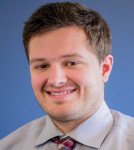 SymQuest Group, Inc. announced the addition of Eric Dicocco as a Document Solutions Account Executive in the company's West Lebanon offices.
Dicocco will be responsible for maintaining and growing account relationships by helping SymQuest clients determine strategic applications of fast moving document technology and maximizing the return on existing equipment.
"This is an area that many companies overlook for savings and efficiency," commented SymQuest President and CEO, Larry Sudbay. "What Eric and all of our document solutions staff bring to the table is an ability to do more with less, which is crucial for any business."
Dicocco is a graduate of Castleton State College where he played football with the Spartans for three years and completed a semester abroad in Barcelona, Spain and an internship with Aprenda in Lima, Peru. Dicocco says he is excited to work with clients and assist with their document needs.