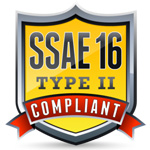 SymQuest has received a favorable SOC 1-SSAE 16 Type II audit report from an independent Certified Public Accounting firm applicable to the company's Data Center and
Hosting Services.
What is the SSAE 16 Type II compliance standard?
SOC 1-SSAE 16 Type II is the attestation standard put forth by the American Institute of Certified Public Accountants ("AICPA"). The SOC 1-SSAE 16 standard effectively replaced the SAS 70 auditing standard, which was used for over 20 years.
The rigorous SOC I-SSAE 16 Type II attestation confirms SymQuest's continued compliance with control objectives for a wide variety of functional areas, including:
Management and Operating Style
Integrity and Ethical Values
Data Center Security
System Monitoring and Response
Backup of Customer Applications and Data Replication
Telecommunications Connectivity
Why choose a data center compliant with the SSAE 16 Type II attestation standard?
The SSAE 16 Type II is a step above SAS 70 due to the ability to validate the controls and processes, and also requires a written declaration regarding the design and operating effectiveness of the controls being analyzed.
There are no standards set for data center excellence for Data Centers with Type 1 and there are no certifications for SAS 70, only an auditing process. Type I only has the
ability to measure sufficiency for a specific date in time and does not audit
operational effectiveness.
SSAE 16 Type II standards are especially important for companies within the healthcare, banking or government industries that are mandated to follow strict industry guidelines.
The fact that SymQuest has achieved compliance with SSAE 16 Type II standards demonstrates that the Data Center and Hosting Services have been reviewed and tested by an independent certified public accounting firm and validates that our controls and processes are suitably designed and operated effectively to protect and safeguard customer's equipment and data.