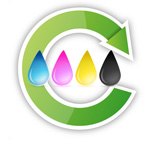 Part of our daily work at SymQuest revolves around making our business as green as possible. We do this both in-house and by offering our clients green solutions that help reduce waste while saving on costs. One of the ways we strive to keep green is by recycling your print toner. While a printer or ink cartridge may seem small in comparison to larger recycled objects, these small cartridges can do a world of damage:
Over 350 million cartridges are disposed of each year into landfills and only 30% of these are being recycled each year
It takes one gallon of oil to make a new laser cartridge
Nearly eight cartridges are thrown away per second in the United States alone
About 70 percent of used printer cartridges are currently being thrown out
Over 75 percent of waste is recyclable, but we only recycle about 30 percent of it
A laser cartridge thrown into a landfill can take up to 450 years to decompose with some components taking over 1,000 years
In one year, if the world's discarded cartridges were stacked end-to-end, they would circle the earth over three times
*Courtesy of Cartridgeworld.com
Clearly, recycling these materials needs to become the norm rather than the exception. In order to help our clients move more easily toward recycling printer cartridges, SymQuest has made it easy by providing clients with our toner recycle portal, which is found here: click here
As a SymQuest client, you simply enter in the type of cartridge you are returning - inkjet, laser toner cartridges or fusers – your company's address information and how many labels you need. You will then be able to download your pre-paid label to send the cartridges back to us for recycling. And yes, you read that correctly: the labels are pre-paid, so there is no extra cost to you for recycling.
Through this program, SymQuest has been able to recycle 85% of last year's cartridges sold (for a total of 16,335 being recycled), and this year we expect that number to be over 90%. Become part of a great statistic and help us to help you recycle your old printer cartridges today!