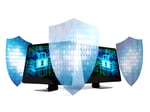 Your company's network might be exposed to multiple cyber security gaps. Without quality tools to manage your systems, you may be looking at potential IT risks.
SymQuest's updated Guardian program offers a variety of a-la-carte solutions to manage your network, and train your employees on IT security best practices. Whether you need to scan your network for vulnerabilities, monitor traffic to and from the internet, or train your team on how to prevent a phishing scam — Guardian has you covered.
Pain Points Solved
Secure your network against ransomware and viruses.
Prevent downtime through early warning of hidden failures.
Gain access to a professional IT team for additional help as you need it.
Prevent costly ransomware attacks due to employee error.
Update employees on the latest software applications including: Microsoft, Adobe, etc...