Fantastic Turnout for 1st Annual Maine Golf Tournament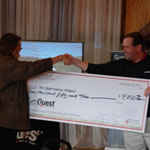 After eighteen successful SymQuest charity golf tournaments in Vermont, we were proud on September 25th to hold our first ever tournament in Maine.
Thirty-nine participants gathered at Spring Meadow Golf Club in Gray, ME to help us raise over $4,000 to benefit the Opportunity Alliance, which provides basic needs, education, treatment, and advocacy for people living in poverty. SymQuest is dedicated to supporting the local communities at all of our branches, and we look forward to many more opportunities in the future to serve this and other deserving organizations in Maine. Thank you to all of our participants!