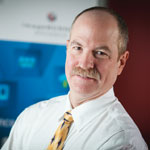 The Casco Bay Technology Hub PubHub event is an exciting opportunity for Portland's business and tech community to meet, network, and learn from each other. I'll be introducing guest speaker Fletcher Kittredge and we'll explore how rapid technology advances actually help small businesses develop in Maine. My goal is to provide valuable information that makes the event worthwhile and successful for you.
So, why should you attend? Here are five good reasons:
Is your business ready for the cloud? I'll help you find the answer.
Learn how to implement a better DR strategy using fully-redundant SymQuest data centers located right here in Maine.
Discover what you should do to protect your business after Microsoft officially abandons Windows XP.
Learn how remote working practices can ensure your employees are more productive working any place, any time, and on any device.
Find out why outsourcing routine IT tasks helps you get the most uptime from the technology you already own.
Learn more about the PubHub event here. I hope you'll join me in connecting with other business and technology professionals and entrepreneurs. Meet with me at the event and connect with me on LinkedIn.