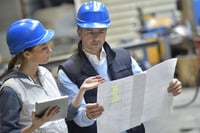 How are manufacturers responding to the ever-increasing pressure to speed production, increase revenue, and stay competitive in a dynamic industry? Many are investing in advanced digital and fabrication technologies to improve their labor productivity. Yet it's often the back-end where true company-wide efficiency is created.
The day-to-day document workflows of any organization are integral to productivity and efficiency. Despite the importance of efficient document flow, many manufacturers still rely on legacy paper workflows through every stage of the product lifecycle. Even digitized information is often stored across unconnected business platforms and databases.
Manufacturing leaders cite product data management and the industrial Internet of Things as among the top most important technology advancements to future business performance. So why are manufacturers still relying on outdated business workflows?
To drive true business growth, manufacturers need to improve processes across their organizations—not just on the production floor. Enterprise Content Management, or ECM, is a way for businesses to operate more efficiently by simplifying document processes. ECM is software that helps you capture, manage, store, and control all of your business content.
Here are three ways ECM can help manufacturers drive productivity and efficiency.
1. Automate manual processes
Manual processes are slow, error-prone, frustrating and expensive. According to the Association for Information and Image Management (AIIM), on average, businesses spend $20 to file a single document. It then costs an additional $220 to search for and replace each document that is not filed properly.
You may not even realize how much manual data entry is costing your manufacturing business. Especially in Accounts Payable and Accounts Receivable departments, errors in data entry can result in over and underpayment. Then, not only are you paying for the mistake, but you're also paying for the time it takes to backpedal.
ECM software can eliminate manual data entry by allowing you to capture information and documents—even handwritten documents—and turn them into searchable data. With the right ECM solution, you can convert purchase orders, invoices, approval documents and proofs of delivery to electronic files with the ability to automate the capture process. Then, you can streamline your facility's unique workflows by automatically routing any document through user-defined manufacturing procedures. With the powerful capabilities of ECM, you can reduce errors, speed up your workflows, and run more efficient operations.

2. Simplify document storage and collaboration
Your business documents—both paper and digital— are most likely stored in many places: filing cabinets; ERP, MES, and PLM platforms; and company databases that are part of internal platforms. When your team is managing massive stores of product-related documents, finding the right content at the right time can be a time-consuming challenge.
Eliminate the document hunt with ECM software. By using Enterprise Content Management Software, you can find the exact documents you are looking for instantly, without leaving your desk. Even complex searches are streamlined with the ability to search by metadata, on multiple fields. Then, even if your internal filing system breaks down, your eloyees can still quickly and easily find the business files they need.
3. Gain strategic advantage with document security
As important as it is to secure your facility with all of its expensive equipment, it's equally as important to secure your critical business data. This doesn't just mean making sure your computer network is locked down, but your documents and business content, as well.
ECM provides the document security you need to keep business moving. You can limit access to content by individual user, so only the necessary people can view or change documents. Plus, ECM software records every document action, including when a file was accessed, what actions took place and by who. Views, edits, approvals—everything is recorded in a document history log, adding a level of transparency that contributes to both security and productivity.
In today's dynamic manufacturing landscape, the ability to be agile is crucial to business success. Just as you upgrade the production floor with the latest innovative technology, it's time to drive business growth by making your organization's workflows more efficient and productive. ECM software can help manufacturers streamline operations and gain competitive advantage in the ever-changing global market.