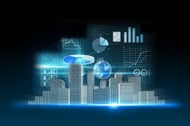 There isn't a business today that doesn't rely on their IT resources being safe and available. Downtime is expensive and stressful, and even short periods of downtime can cause chaos. As if that wasn't enough to keep you up at night, an outage or other event that causes data loss could be the end of your business. Many businesses that suffer major data loss never recover.
Protecting data and maintaining a high level of availability for critical applications is one of the IT department's core functions, but it's not always easy. In fact, many organizations only do the bare minimum to protect their data. Why? Traditionally, adding layers of protection has been expensive and complex.
Hyperconverged Infrastructure (HCI) has been helping to change that narrative in recent years. If you're not familiar with the term, HCI virtualizes the three major components of IT infrastructure: compute, storage, and servers/network. In other words, HCI wraps servers and storage devices that comprise the data center into comprehensive and easy-to-use management tools.
At least, that's the basic definition. People think of HCI as a great storage and efficiency solution, but many enterprises are not equating hyperconverged infrastructures with data protection. People still view HCI as simply the consolidation of servers and storage.
In a study, IT leaders were asked about their organization's most important IT priorities. Improving data backup and recovery emerged as the number one response.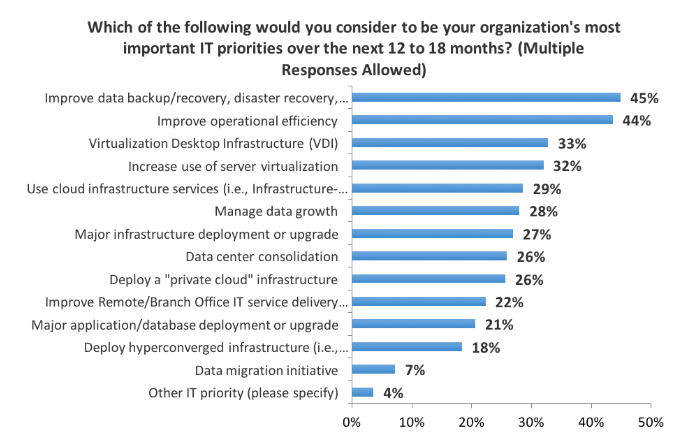 Source: http://www.hyperconverged.org/blog/2016/10/06/aligning-architecture-and-priorities/
However, when respondents were asked about the primary driver for their interest in hyperconverged infrastructure, improving backup, recovery and disaster recovery was at the bottom of the list of answers.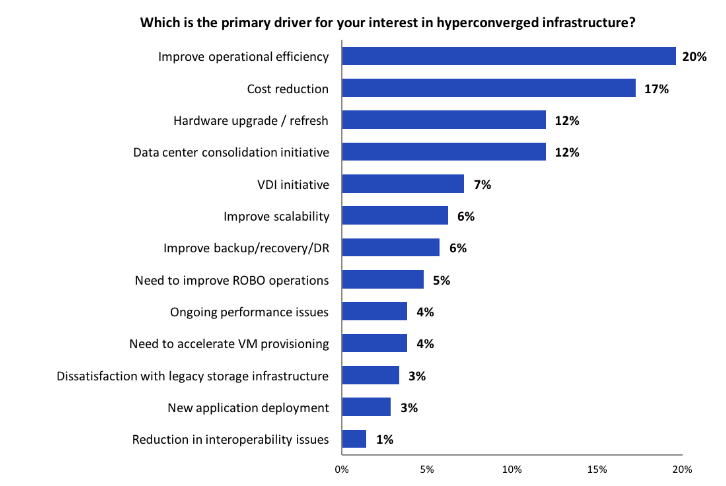 Source: http://www.hyperconverged.org/blog/2016/10/06/aligning-architecture-and-priorities/
People simply are not making the connection between hyperconverged infrastructure and data protection. In reality, HCI offers many benefits to organizations looking to improve their data backup and disaster recovery processes. Here are some of the ways HCI creates better data protection for businesses.
Backup and recovery are built in
There are critical recovery metrics known as Recovery Time Objective (RTO) and Recovery Point Objective (RTO) that must be considered in your data protection plan. As RTO and RPO continue shrinking, meeting these goals with traditional hardware and software solutions has become increasingly challenging. As RPO and RTO needs get shorter, costs get higher with traditional solutions.
With the right hyperconverged infrastructure solution, the picture changes a bit. In fact, included in some baseline solutions is a comprehensive backup and recovery capability that can enable extremely short RTO windows while also featuring very small RPO metrics. This eliminates the need for third-party data protection.
Ensures high system availability
The essence of data protection is ensuring data is available when it's needed. The right HCI makes sure virtual machines are always available, even in the event of data center loss.
Reduces complexity for IT teams
There are some complex aspects of data protection platforms that even IT professionals shouldn't have to deal with. HCI helps shield administrators from overly complex data protection setups. Infrastructure configurations are often hidden from view and are simply part of the environment.
By simplifying backup, recovery and DR, hyperconverged infrastructures allow IT teams to focus on deeper strategy and planning that will have a true business impact. When less time is spent handling complex day-to-day tasks, IT pros can spend more time supporting overall company goals.