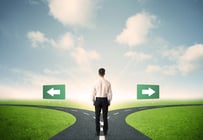 Business growth, advancing technology, and a dynamic digital landscape—sometimes it seems that keeping up with the demands of your business IT infrastructure get more challenging by the day. The need to continuously adapt your business technology can be taxing on both departmental bandwidths and your overall budget.
However, navigating these necessary business transitions becomes much less cumbersome by creating an IT roadmap for your organization.
Business technology shouldn't be an afterthought or be taken for granted; it's an essential part of your company's success. IT roadmaps help businesses move forward with confidence and purpose when it comes to their technology.
IT roadmaps define the strategies, equipment, software, timing, and budget companies will need to meet their short and long-term objectives. For a company looking to grow and scale, an IT roadmap is critical to ensuring the right technology is in place to support your changing organization.
Define Your Strategic Business Objectives
Before you embark on a journey of large-scale system upgrades, new business processes, and increased budget spending, it's vital that you identify the long-term strategic objectives of the company.
These objectives can be broken down into a few different categories and can help address several important questions about how the adoption of more modern IT processes can support your company long-term.
What are the financial obligations of my company and can it sustain largescale changes to its infrastructure?
What is the operational impact that new technology affords, and can the organization maximize its value?
What are the growing requirements of our customers, and do our current processes support them long-term?
Taking the time to answer questions will help you to draft the rest of your IT roadmap effectively.
Audit Current Technology and Identify Your Future Needs
Once you've successfully defined your strategic company goals, it's time to audit your current technology against the future needs of your business.
Identifying gaps in your technology and business processes will help you make better-informed decisions about future changes necessary to scale your business efficiently. If inadequacies are discovered with your current operations, create an itemized checklist of the changes, and prioritize the list based on need and budget.
Start by identifying your current hardware assets. A few examples of inventory to review include:
Servers
Laptops
Desktop computers
Switches
Routers
Power sources
Cabling
Wireless keyboards and other devices
Software applications such as Microsoft Office, Windows, Adobe, and CRMs
You will also need to evaluate the software that is currently installed, or owned, by your business. Determine how they are meeting or not meeting your needs, whether there are any pending upgrades, and whether you're considering replacement. It's also important to take into consideration those applications that are being used incorrectly and may require licensing to reach a level of compliance for your business.
Program name
Original installation files (disks, thumb drives, or executable program files)
Version numbers
Licensing and renewal information.
It's also important for you to evaluate applications within each department. While some applications may be company-wide, such as operating systems, other applications may be used by only one department. Some of these singular-department applications include accounting software, purchasing or inventory control applications, marketing and sales platforms, or any software specific to one process within your organization.
Develop a Sustainable Budget
Most cost considerations start and end at the deployment stage of new software and equipment. However, over time, the total costs to manage and service more modern technologies can add up and significantly impact budgets year after year.
Take the time to measure the total costs associated with new IT developments and how those expenses might scale within your company. You'll then be able to establish realistic, sustainable budgets to reference. These budgets can then be documented into your IT roadmap to help visualize how quickly you should scale your operations.
Create Achievable Timelines
Whether your plan includes migrating business services to the cloud, deploying new ERP systems, or creating a more sustainable way of managing workflows, IT roadmaps should have documented deadlines based on priorities stipulated through the company's strategic objectives.
These timelines may be supported by a combination of internal and external resources that work together to achieve successful deployment of new business systems and processes. By creating and sticking with these timelines, you can maximize the value of each initiative while supporting the scalability of your organization.
IT roadmaps are an effective way to plan and document the growing needs of your company as you scale your work towards growing your business. While many business strategies may change over time, by creating a template for efficient, cost-effective planning and execution of your IT development, you'll be able to ensure your company is prepared for the growing demands of our dynamic digital landscape.