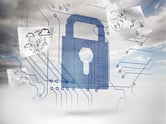 None of us would leave our business at the end of the day without locking the doors and setting the alarms. We know that if something were to happen to our premises, the results would be detrimental and costly.
The same goes for business data. If data were to be hacked, stolen, or compromised in any way, the consequences would be damaging—from business downtime to loss of revenue to lack of regulatory compliance.
Many companies still use paper documents as the means of storing their core business data, but don't take care to secure those documents. Did you know that paper files still pose security vulnerabilities? If your business operates primarily on a paper system, here are three major document security gaps you need to fix right now:
1.

Reliance on Paper Files

First and foremost, it's time to diversify your file storage. Relocating, sharing, and indexing paper files can lead to security concerns. While you may not be able to transfer all of your business processes to a purely digital workflow, you can still capture document data in a digital format and store it securely.

Start by implementing an Enterprise Content Management (ECM) system. ECM software allows you to scan and store all of your business documents in a digital repository, meaning they're simple to track and are protected from natural disasters or security breaches.
2. Multiple Locations for Document Storage
If you have some of your documents in folders and files, some on your company server, and different versions of all of them floating around, you've got a security risk on your hands. Storing documents in multiple locations is not only a security gap—it's also unproductive. Think of the time it takes employees to find what they're looking for with so many potential places to look. A lack of document process translates to lost productivity.
Enterprise Content Management comes to the rescue again. ECM allows you to scan documents, or capture the data with forms, and create fully searchable digital versions. When ECM is integrated with a Windows File System, all archive and search settings remain reinforced, regardless of the document's native application. What does this mean for your team? They can streamline document search and retrieval while still keeping the content fully protected. That means employees can find what they're looking for faster without compromising security.
3. Use of Filing Cabinets
Yes, filing cabinets can be locked, but that's not a failsafe way to protect them from someone who truly wants the information inside. ECM allows you to set user-based access with security permissions, so files can only be accessed by the people you want to access them.
A reliance on filing cabinets often points to other document-related security risks within an organization. If you find that your files often go missing, or if documents are left sitting on the printer or in the scanner, it's a sign that your business needs a document security overhaul.
---
The stack of folders sitting on your desk may seem secure, but the truth is that your data is still vulnerable. Implementing an Enterprise Content Management system will help to alleviate document security gaps while also boosting your team's productivity. Get connected with a SymQuest IT Consultant to share your document challenges and find out how we can help.